Into the Woods Movie Review
Category:
Movies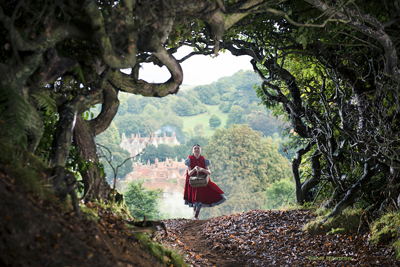 Into the Woods is Disney's present to audiences this holiday season. It is a bit long, however the film is beautifully photographed and has an amazing cast. If you liked the stage version, you'll be blown away by the film version. And, if you're like me and weren't enthralled by the play, you will be by this movie.
This musical story brings together some well-known characters from several fairy tales. There is Cinderella (Anna Kendrick), her stepmother (Christine Baranski), stepsisters (Lucy Punch and Tammy Blanchard), Jack (Daniel Huttlestone), of Jack and the Beanstalk fame, his mother (Tracey Ullman), Rapunzel (Mackenzie Mauzy), Red Riding Hood (Lilla Crawford), The Wolf (Johnny Depp), The Baker (James Corden), The Baker's Wife (Emily Blunt), Cinderella's Prince Charming (Chris Pine), Rapunzel's Prince (Billy Magnussen), and the Witch (Meryl Streep). This concoction of fairy tale characters combines to create an interesting story along with plenty of Stephen Sondheim songs.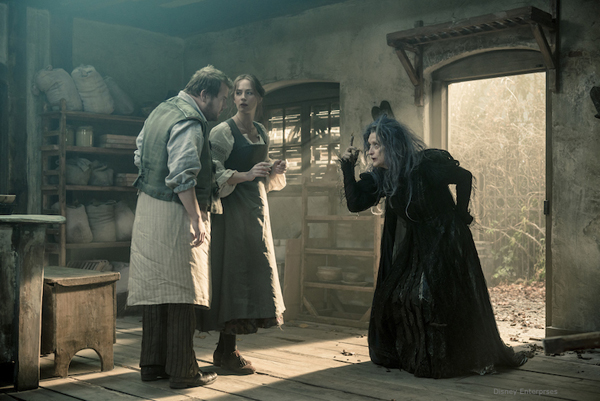 So the gist of the story is this: The Baker and his Wife are barren due to a curse put on them by the Witch. To undo this curse they must bring her four items by the third midnight. The items are a cow as white as milk, a cape as red as blood, hair as yellow as corn, and a slipper pure as gold.
Jack is taking his milky-white cow to sell, Red Riding Hood is taking a basket of goodies to her grandmother, Cinderella is attending the Royal Festival, and a Prince is wooing Rapunzel. Between them, they posses the items needed by the Baker and his Wife to reverse the curse and grant them a child. Getting the items is not as easy as the couple thinks. They must go into the woods to find them.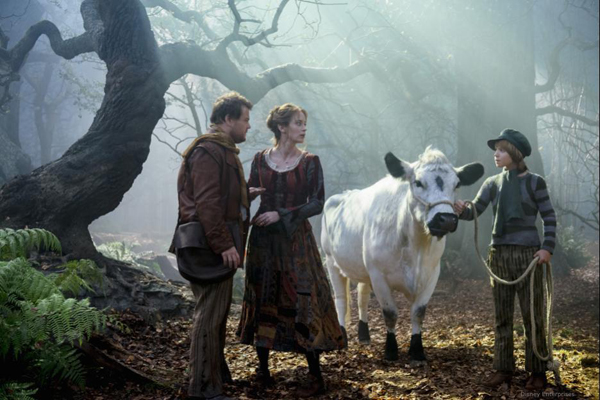 There are some fun scenes and cute one-liners throughout the film. One of the most entertaining scenes is when the two princes meet up and sing about the two women they love. In this instance, the princes are more delightful than their female counterparts.
Jack unwittingly brings havoc to the village with his magic beans. After the Giant is killed his wife seeks revenge, causing a host of new problems for the characters. While a prince seeks Cinderella, Rapunzel is sought out by another prince, Little Red Riding Hood is encountering a Wolf, and the Baker and his Wife are looking for their items, the Witch is anxiously awaiting her four objects which will not only benefit her but also the Baker and his Wife.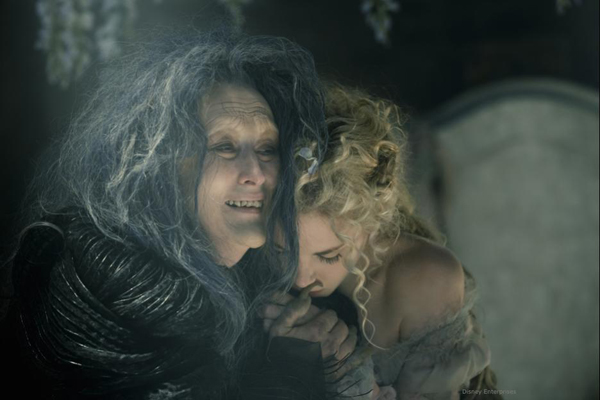 Don't let this all confuse you. It isn't as complicated as it might sound. It is a fun, witty, musically engaging story.
Johnny Depp said, "I loved the idea of taking all these fairy tales that we've grown up with and bringing them all to life in one large musical. We get to know more about them which turns out to be even spookier and funnier than imagined, so it's just a brilliant idea. And it's so beautifully put together."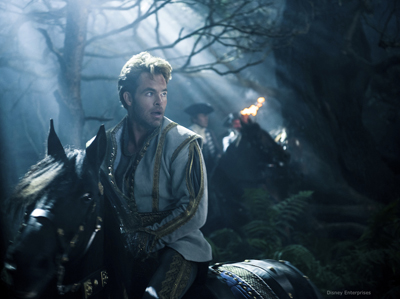 And Chris Pine explained, "They have taken fairy tales, which are presented at the beginning of the story, and created an amalgam of all their different worlds and stories, and from there it just gets deeper and more complex. In many ways this film is about growing up, as the characters learn how spectacular life can be in all its forms and manifestations. It's about discovering the world."
According to Meryl Streep, "Fairy tales evolved as cautionary tales. They were told to scare children away from the dangers they would encounter in their lives and to encourage young women to marry rich men. Everyone is encouraged to find a prince and live happily ever after, and sometimes it doesn't work that way." Streep added, "Musically it is challenging and thrilling, and so this is what I hope for the audience: that they too will be thrilled and challenged."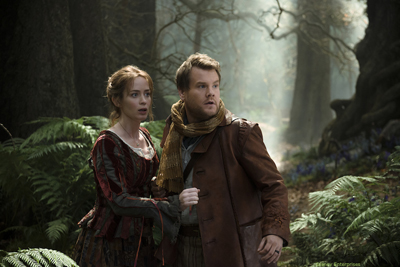 There are several songs in this modern fairy tale, including the title song and "No One is Alone." Sondheim explained, "This is what the show has been about. No one is alone: we are all connected in some way and we are all responsible for each other's actions. It's something I believe firmly and it's something that's worth writing about."
"In many ways, I think Into the Woods is a fairy tale for the 21st century post 9/11 generation," said the film's director Rob Marshall. "Sondheim and Lapine were way ahead of their time when they wrote it. The comforting knowledge that we are not alone in this unstable world gives us all that glimmer of hope."
The running time of the film is 124 minutes, which is a bit long, in my opinion. Perhaps a little shorter would be nice, but in any case, this is an enchanting movie and I believe Emily Blunt deserves additional recognition for her performance.
Into the Woods is rated PG for thematic elements, fantasy action and peril, and some suggestive material.
About the Author
Francine Brokaw has been covering all aspects of the entertainment business for 20 years. She also writes about technology and has been a travel writer for the past 12 years. She has been published in national and international newspapers and magazines as well as internet websites. She has written her own book, Beyond the Red Carpet The World of Entertainment Journalists, from Sourced Media Books.
Follow her on Twitter
Like her on Facebook