Interview with 'Creed' Star Michael B. Jordan
Category:
Movies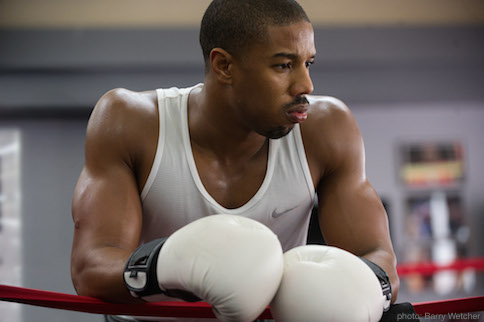 Michael B. Jordan was already living the life of a boxer before the first punch landed in Creed, the latest installment of the Rocky Balboa franchise opening Nov. 25, 2015. The project reunited him with award winning Fruitvale Station writer/director Ryan Coogler, who wrote the part specifically for Jordan before the movie was even pitched to Sylvester Stallone.
Partially paralleling the initial Rocky outing, Jordan's character, Adonia Johnson, is going nowhere fast on a shady prize fighting circuit. Heading for Philly, Adonis seeks out his father, Apollo Creed's, former nemesis and eventual closest friend to train him. Layered among the fight scenes is an emotionally wrought coming of age story.
"Fortunately, I was already in good shape when we were ready to shoot. I had completely changed my diet, did a lot of weight training and cardiovascular workouts, and boxed six times a week. Aside from ABA Heavyweight Champion Anthony Bellew, who fights me in the ring, all the other boxers in the film were also pros. I've fallen in love with boxing and continue to work out in the gym," explained the 28-year old, Newark-reared actor.
"Sylvester was smart, supportive, and open to collaboration. He helped me master boxing techniques for the fight scenes. But there was one angle that was impossible to film without me taking the punch. Sylvester warned me, but I could see him in the corner with a large smirk on his face. He knew what was coming."
While Jordan is hoping that Creed will be the movie that pivots him onto Hollywood's "A-list," he's already chalked up an impressive resume that outdistances someone twice his age. It all started when a doctor's receptionist casually suggested that his mom, Donna, should get her brood of three, Jamila, Jordan, and younger brother Khalid, into modeling.
His introduction was print ads for Modell's sporting goods and Frito Lay, and by 12 years of age Jordan landed guests roles on both the Bill Crosby Show, and The Sopranos. His first principal film role was in 2001's Hardball starring Keanu Reeves, followed by a three year stint as Reggie in ABC's daytime series All My Children. Despite his tender age, Jordan received NAACP Image Award nominations in 2005 through 2007.
"As a kid I never knew what I wanted to be when I grew up, but then acting came to me. The thing about growing up in Newark was that it causes you to dream big," he said. Unlike the vast majority of aspiring actors, he's never been forced to hold down a "day job."
In fact, Jordan's career heated up so fast, that he resorted to being home schooled during his junior and senior grades. Nevertheless, he continued to play basketball for his alma mater – Newark Arts High School.
His first luxury expenditure was a BMW car. He laughingly conceded, "It was used, but the local police couldn't understand why a 17-year-old was driving such a car and thought I must be dealing drugs."
Standing almost 6 feet tall, Jordan's athletic prowess made him a natural for the role of quarterback Vince Howard in NBC's Friday Night Lights. When that series wrapped in 2011, he was attached to another popular NBC series, Parenthood, playing a recovered alcoholic named Alex.
Seen at neighborhood multiplexes, Jordan played a Tuskegee pilot in Red Tails, and a teenage boy who developed superpowers in Chronicle, but the role that generated the most critical acclaim was the Sundance Film Festival favorite Fruitvale Station. Extremely topical, it won both the Grand Jury Prize and Audience Award for United States Dramatic Film.
Jordan confided, "After Chronicle I told my agent I wanted to do a gritty, independent film. He gave me 'Fruitvale' to read and I started crying. I got so much attention and success off that tragic event, that he gave me a bittersweet feeling."
Based on a true story Fruitvale Station chronicles the last day of Bay Area's Oscar Grant III's life. Getting into a confrontation with a person from his past, the BART Police intervenes. An unarmed Oscar ends up being shot in the back by one of the officers on the station platform. The officer was subsequently found guilty of involuntary manslaughter and sentenced to 11 months in jail.
Boasting the good looks and acting chops of a young Denzel Washington, he's been singled out by publications like Variety, Time, People, Entertainment Weekly, and GQ as "the actor to watch."
Earlier this year, Jordan crashed another color barrier by becoming the first African-American to portray one of Marvel Comic's major superheroes – Johnny Storm, the Human Torch in Fantastic Four. When his casting was announced it created an Internet fury among diehard fans.
Looking at it philosophically, Jordan wasn't surprised. "People are used to seeing something in one way. I just kinda accepted it. You can't make everyone happy."
Quickly rising to Jordan's defense, 92-year-old superhero creator Stan Lee told Entertainment Weekly, "I thought it was a great idea."
Ironically, his middle name is Bakari, which in Swahili means "of noble promise." It has all the makings of a self-fulfilling prophecy.
About the Author
Winnie Bonelli is a former entertainment editor for a daily metropolitan New York City area newspaper. She is passionate about movies and television and loves to take readers behind the scenes.