'I'm Going to Outer Space' by Timothy Young - Book Review
Category:
Books and Music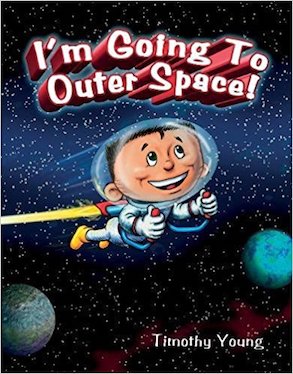 Author Timothy Young has penned another great children's book. I'm Going to Outer Space is the perfect bedtime story to read to your kids.
Little Luis is getting ready for bed. Before getting into his bed he looks out his window to wait for a spaceship to take him to outer space. He loves everything about outer space and looks forward to meeting all kinds of aliens and tasting all kinds of new food – even slimy green stuff.
But with the call from his mother or father, the little fellow must get into bed. Oh well, perhaps the space ship will come for him tomorrow.
When you were little didn't you look out your window at the stars and planets and wonder what was out there? The popularity of sci-fi space shows proves our fascination with exploring outer space. Luis is no different than most young kids, or adults for that matter. The little guy has an imagination as large as space itself.
I'm Going to Outer Space is a great bedtime book to read to your child or read along with your child. It's also a good book to have him or her read to you. The illustrations are delightful and go right along with Luis' imagination.
If you're looking for a new bedtime story, definitely check this out. Luis is a sweet little guy ready to explore new worlds. Perhaps he will get to do so in his dreams.
Age Range: 5 – 8 years
Grade Level: Preschool – 1
Hardcover: 32 pages
Publisher: Schiffer Publishing, Ltd. (September 28, 2017)
ISBN-10: 0764353853
ISBN-13: 978-0764353857
Product Dimensions: 8.7 x 0.6 x 11.2 inches
About the Reviewer
Francine Brokaw writes about products, travel, and entertainment. She has been published in national and international newspapers and magazines as well as Internet websites. She has written her own book, Beyond the Red Carpet The World of Entertainment Journalists, from Sourced Media Books.
Follow her on Twitter