'Ice Age Collision Couse' Deluxe Edition
Category:
Blu-ray's and DVD's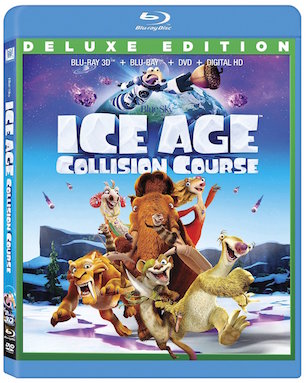 The fifth film in the Ice Age franchise, Ice Age Collision Course, brings the characters together for another round of antics and peril, created by you know who – Scrat.
Scrat, chasing the ever illusive and beloved acorn, finds himself in a spaceship. The clumsy fellow blasts off and unwittingly causes chaos in the skies.
Meanwhile, on Earth Manny and his wife Ellie are struggling with their daughter Peaches and her fiancé Julian's decision to leave once they get married. Sid is dealing with the fact that he cannot keep a girlfriend. All he wants is a loving family like his buddy Manny.
When they discover the end of the planet is near, they go on a journey to try to stop the meteor that will destroy the earth. Along the way they meet up with Buck, a smart-talking weasel that lives below with the dinosaurs. He first appeared in the 2009 film and has returned this time to play an important role helping to figure out how to stop the meteor, which will strike in three days time.
The whole gang encounter a utopian group who live in a crystal city, led by Shangri Llama. All the while, three dino birds intent on stopping them from saving the planet are stalking Buck and his little group.
Bonus features include several featurettes about Scrat and his ancestors. There is also a 13-minute featurette, "Ice Age: The Story So Far" that briefly shows viewers the story of the gang from their very first meetings to now.
The most interesting bonus is with astrophysicist Neil deGrasse Tyson. He debunks the liberties taken by the filmmakers in this story. He also explains about space, the planets, gravity, and exactly what that red spot is on Jupiter. It's a giant storm. deGrasse Tyson answers several questions posed about scientific aspects of the movie. He's the guy to ask, and he explains everything in ways young viewers can understand.
Ice Age Collision Course is rated PG for mild rude humor and some action/peril. The Deluxe Edition includes a Blu-ray 3D, Blu-Ray, DVD, and Digital HD. It's also available in an 4K Ultra HD, Blu-ray, and DVD.
About the Author
Francine Brokaw has been covering all aspects of the entertainment industry for over 20 years. She also writes about products and travel. She has been published in national and international newspapers and magazines as well as Internet websites. She has written her own book, Beyond the Red Carpet The World of Entertainment Journalists, from Sourced Media Books.
Follow her on Twitter