'Ice Age: Collision Course' Movie Review
Category:
Movies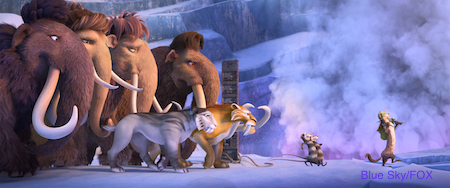 When they first appeared on the big screen in Ice Age in 2002, an unlikely group of characters warmed the hearts of moviegoers. A mammoth (Manny, voiced by Ray Romano), a sloth (Sid, voiced by John Leguizamo), and a saber tooth tiger, (Diego, voiced by Denis Leary) joined together to get one little baby (Roshan) safely to his father. Since then they reunited in several "buddy" feature films: Ice Age: The Meltdown (2006), Ice Age: Dawn of the Dinosaurs (2009), Ice Age: Continental Drift (2012), and now Ice Age: Collision Course.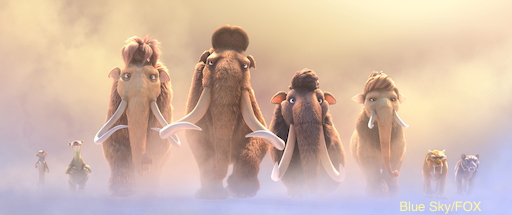 In every story, Scrat starts things off with his often-dangerous attempts to get and keep his beloved acorn. This time Scrat takes a very important role because he unwittingly stirs things up in what could be a catastrophic ending for the planet and everyone on it. First of all, this beginning pays homage to the original film. In that story the gang walked through an ice museum and past a spacecraft frozen in a block of ice. Well, that spacecraft is where Scrat finds himself and in which he blasts off into space where he unwittingly and quite clumsily, as usual, starts a meteor on a collision course with Earth.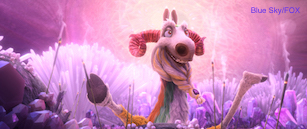 Meanwhile, on Earth Manny and his wife Ellie (voiced by Queen Latifah) are struggling with their daughter Peaches and her fiancé Julian's decision to leave once they get married. Sid is dealing with the fact that he cannot keep a girlfriend. All he wants is a loving family like his buddy Manny.
When they discover the end of the planet is near, they head on a journey to try to stop the meteor that will destroy the planet. But how can they do that? Along the way they meet up with Buck, a smart-talking weasel that lives below with the dinosaurs. He first appeared in the 2009 film and has returned this time to play an important role helping to figure out how to stop the meteor, which will strike in three days time.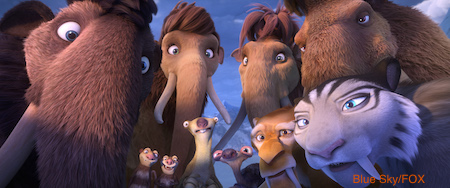 The whole gang encounter a utopian group who live in a crystal city, led by Shangri Llama. All the while, three dino birds intent on stopping them from saving the planet are stalking Buck and his little group.
This is a typical Ice Age movie. If you liked them in the past you will enjoy this one as well. The original movie was the best of them all, however now that we are all familiar with the characters, this one adds an extra dimension to each of them. Family (aka herd) has always been in integral part of the stories, and this film is no exception.
Ice Age: Collision Course opens in theaters July 22, 2016. It's rated PG for mild rude humor and some action/peril.
About the Author
Francine Brokaw has been covering all aspects of the entertainment industry for 20 years. She also writes about products and travel. She has been published in national and international newspapers and magazines as well as Internet websites. She has written her own book, Beyond the Red Carpet The World of Entertainment Journalists, from Sourced Media Books.
Follow her on Twitter