'I Kill Giants' comes to Blu-ray
Category:
Blu-ray's and DVD's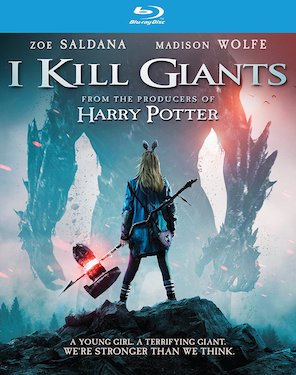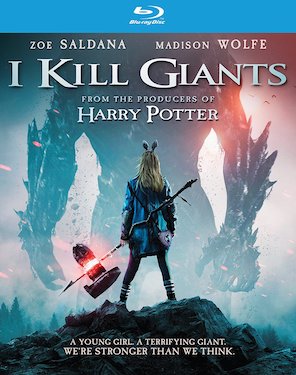 The 2010 series of Graphic Novels (known to many as comic books) comes to life in the film I Kill Giants starring Madison Wolfe and Zoe Saldana. This is a sensitive and imaginative story of life, hope, and fate.
Barbara (Wolfe) is a teenager living with her older sister and brother. She has some psychological issues, which are only revealed in the end. But throughout the film, Barbara insists she is hunting, trapping, and killing giants, thus saving the town. She is bullied at school for being different, but that doesn't faze her at all. She is steadfast in her beliefs.
Barbara's imagination knows no bounds. The photography in the film is amazing and as viewers get caught up in this young girl's adventures, their emotions can't help but be touched by her determination to kill all the giants.
As the story unfolds, there are brief clues as to what exactly is going on inside Barbara's head. And the school psychologist, Mrs. Molle (Saldana), gathers pieces of information about this young girl who is obviously living in a distorted world.
As the two get closer, Barbara slowly rethinks her whole role in life. Isn't she supposed to be the giant killer and save everyone?
Her one and only friend, Sophia (Sydney Wade) waffles between getting caught up in Barbara's beliefs and adventures, and wondering what is really going on with her.
This sensitive and touching story is filled with the morose emotions of Barbara, but there is an ending that brings hope to the girl. Life is not an easy journey, for teenagers especially. But Barbara is experiencing an aspect of life that is more difficult than usual. Her giant hunting/killing is the only thing that keeps her focused. And at this time she needs to hold onto something, some sliver of hope.
It all comes together at the end, so there is no way I will spoil it for you.
The bonus feature takes a look at the making of the film and the transformation from graphic novels to the big screen. The movie was filmed in Belgium, but is supposed to be New Jersey.
The story is extremely emotional as viewers take this troubling journey with Barbara. As viewers discover, it's really a heartfelt story of love.
In 2012, I Kill Giants writer Joe Kelley and artist J.M. Ken Niimura received the International Manga Award, an honor given by the Japanese Foreign Ministry to an outstanding comic book or graphic novel.
About the Author
Francine Brokaw has been covering all aspects of the entertainment industry for over 20 years. She also writes about products and travel. She has been published in national and international newspapers and magazines as well as Internet websites. She has written her own book, Beyond the Red Carpet The World of Entertainment Journalists, from Sourced Media Books.
Follow her on Twitter