'I Am JFK Jr.'
Category:
Blu-ray's and DVD's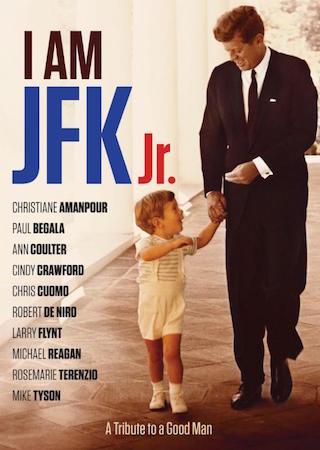 His birth was a national event. From the moment he was conceived John F. Kennedy Jr. was a public figure. I Am JFK Jr. is an insightful look at the man who went through his entire life in the public eye having every move he made scrutinized in the press and always hunted by paparazzi and Kennedy-fans.
He was a man who knew he had a responsibility to his family, his country, and more importantly, to himself. Having been born into America's most famous family and having the name of a beloved slain president was something that never left his mind. He knew he was expected to do something great. The country looked up to him. But JFK Jr. also knew he had a responsibility to be himself at the same time.
So, how did he manage to balance expectations with his inner drives and desires? Thanks to his mother, Jacqueline, he and his sister were given the tools and self-confidence they needed to live their lives as their own people as well as "Kennedys."
This documentary includes clips from the life of John Kennedy Jr. as well as interviews with those who new him. College roommates, family friends, colleagues, and personal friends talk about his life and his interactions as well as his inner turmoil. He said being who he was wasn't really a "burden," but he did have a weight he lived with and always had to run the gauntlet of paparazzi and fans throughout his life, and after chosen People magazine's "Sexiest Man Alive" he had a personal persona as well as a public one to balance.
He didn't follow many of his family members by going to Harvard. Instead he chose Brown. But he did bring his father's presidential chair to his fraternity. He was indeed his father's son, but also very much his mother's son. Jacqueline was responsible for his upbringing and she protected him as much as possible.
This documentary is not a movie about the Kennedys. It is a film that is meant to educate viewers about the man who was considered "America's Prince." His loyalty to his friends, his closeness between his mother, sister, and himself, his interest in others are what made him who he was.
John Kennedy Jr. went into publishing, which was his father's second choice for a profession. Would he have used that as a launching pad for politics? We'll never know. But because of the in-depth interviews in this film, the public knows more about the man who touched the world as a three-year-old by his farewell to his father with one salute. Who was he? What was he like? What did he have to endure being John F. Kennedy Jr.? These are addressed in this film.
I Am JFK Jr. comes to Digital HD on August 2, 2016. The DVD will be released On August 12.
About the Author
Francine Brokaw has been covering all aspects of the entertainment industry for 20 years. She also writes about products and travel. She has been published in national and international newspapers and magazines as well as Internet websites. She has written her own book, Beyond the Red Carpet The World of Entertainment Journalists, from Sourced Media Books.
Follow her on Twitter