'I Am a Dancer' electrifies on Blu-ray
Category:
Blu-ray's and DVD's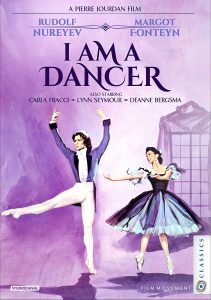 Rudolf Nureyev is one of the best male ballet dancers in history. I Am a Dancer is a portrait of this artist. This 1972 documentary was nominated for a Golden Globe.
Nureyev was born in Russia. He defected to the West in 1961, whish was a controversial topic in the Soviet Union. Nureyev was completely dedicated to dancing. If he took a couple days off of practice his body would rebel.
The film looks at the dancer in training, in rehearsals, and in performances. He was the consummate perfectionist and demanded the same intensity from those with whom he danced.
Watching Nureyev dance is mesmerizing. His grace and acrobatic talent combined to create performances those lucky enough to see him in person will remember the rest of their lives. Having died in 1993, this generation does not know about Rudolf Nureyev, but through this documentary they can see how this true professional led his life. And dancing was his life. He gave it everything he had, which showed on the stage.
While watching this film I was reminded of my own ballet classes, which, unfortunately, I did not stick with. It is a beautiful form of dance and expression, and the stories told through the dances are breathtaking.
If you show this film to your children, be prepared to start them in ballet classes. I would love to go back and do it again, and with the image of Rudolf Nureyev in my head, well, one never knows.
Few will attain the greatness of Nureyev. Personally I prefer Mikhail Baryshnikov, but that is probably because he is more of a contemporary. After watching this documentary though I can see how people have called Nureyev one of the greatest male ballet dancers.
The Blu-ray contains two bonus features with dancers who discuss Rudolf and his history and techniques. There is also an accompanying booklet with images of Nureyev and information about the film.
I Am a Dancer is a great way to introduce kids to the world of ballet. It is not rated but is suitable for everyone.
About the Author
Francine Brokaw has been covering all aspects of the entertainment industry for over 25 years. She also writes about products and travel. She has been published in national and international newspapers and magazines as well as Internet websites. She has written her own book, Beyond the Red Carpet The World of Entertainment Journalists, from Sourced Media Books, is the entertainment correspondent for Good Day Orange County, and has her own TV show, Beyond the Red Carpet, on Village Television in Orange County. She is a longstanding member of the Los Angeles Press Club and the Television Critics Association.