How to Train Your Dragon 2 Combo Pack
Category:
Blu-ray's and DVD's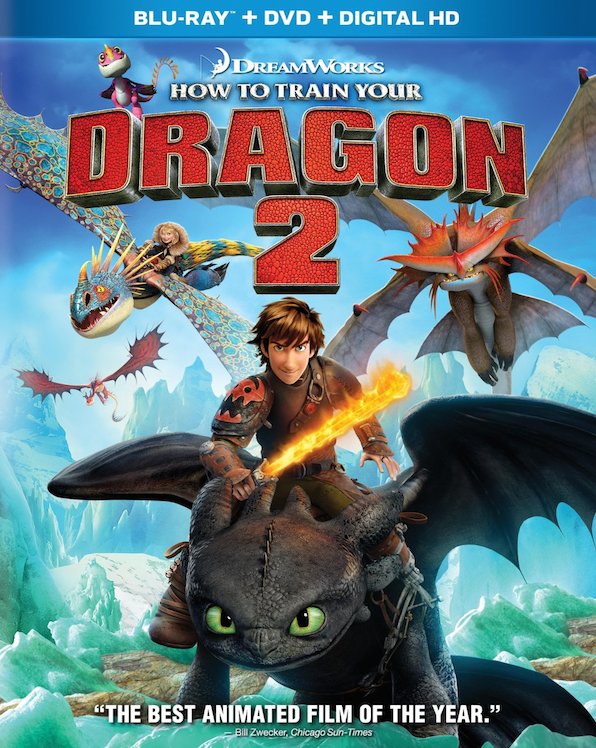 They're back with more fun and adventure. Toothless and Hiccup star in this entertaining sequel to the 2010 hit animated film. How to Train Your Dragon 2 is filled with plenty of dragons and a heartfelt story.
Hiccup's father, Stoick the Chief, wants his son to take over as chief, however Hiccup doesn't feel like he has what it takes to lead the people (and dragons) of Berk. Everything changes when they are all forced into a confrontation that could destroy their way of life, and their society.
Berk is "the voice of peace," and the people want it to remain so. When Hiccup and Toothless discover a plot by an evil man named Drago, they are forced to find a way to stop him from turning their friendly dragons into enemies. The duo also discovers someone from Hiccup's past who is trying to save all the dragons too.
The confrontation between Drago and his army and the people of Berk will determine the fate of their lives. Along the way Hiccup discovers he has "the heart of a chief and the soul of a dragon."
This is the story of the deep and abiding love, admiration, and friendship between a young man and his dragon. Hiccup and Toothless are a team, no matter what. Even when they are up against Drago who wants to control the dragons and the world, the love between Hiccup and Toothless is a bond that cannot be broken.
The bonus features on the Blu-ray include a new 26-minute short, which is a fun mini-movie with more antics and action with Hiccup and his friends as they start dragon racing, and inventing new games to play – with sheep! It's something you have to see to understand.
There is a bonus feature about the kinds of dragons in the film. Viewers learn about their dimensions, temperaments, and unique traits. Another bonus delves into Dragon's war machines, and another feature looks at Hiccups inventions.
There is a feature about the changes that have occurred in Berk over the period of 20 years, and Hiccup explains how they built stables for all the dragons. Deleted scenes and a "making of" feature round out the bonuses. Jay Baruchel voices Hiccup, Gerard Butler voices Stoick, America Ferrera voices Astrid, Craig Ferguson voices Gobber, and Cate Blanchett voices Valka.
How to Train Your Dragon 2 is an exciting animated action story with plenty of sentimentality. Hiccup and Toothless are a great team, and their dedication to each other is the heart of the story.
The combo pack includes a Blu-ray, a DVD, and a Digital HD download. How to Train Your Dragon 2 is rated PG for adventure, action, and some mild rude humor. Spoiler alert: there is a death in the movie, so keep that in mind if you have sensitive kids.
About the Author
Francine Brokaw has been covering all aspects of the entertainment business for 20 years. She also writes about technology and has been a travel writer for the past 12 years. She has been published in national and international newspapers and magazines as well as internet websites. She has written her own book, Beyond the Red Carpet The World of Entertainment Journalists, from Sourced Media Books.
Follow her on Twitter
Like her on Facebook