'How to Steal a Million' on Blu-ray from Twilight Time
Category:
Blu-ray's and DVD's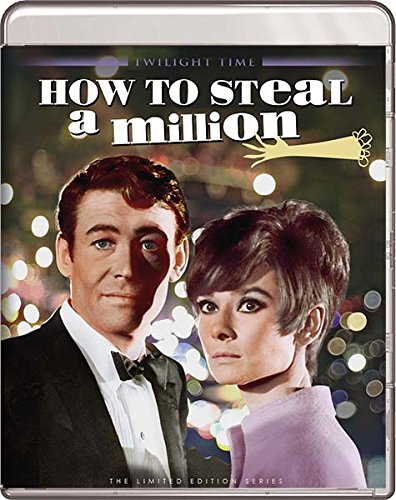 Audrey Hepburn is as adorable as ever in the fun romantic comedy How to Steal a Million. Hepburn plays Nicole, a young woman living with her father in Paris. Her father is not your ordinary man. DeSolnay (Charles Boyer) is an art forger. As a matter of fact, her grandfather was also a forger. Her father forges paintings and her grandfather created – or recreated – sculptures.
When her father loans a Cellini Venus sculpture to the Paris museum, everything seems fine until Nicole learns her grandfather sculpted the piece. The museum intends on running the usual tests to prove the art is not a fake. To keep the family secret a secret, Nicole enlists the help of a burglar, Simon Demott (Peter O'Toole), to steal the statue before the tests are run. That sounds like an easy task, but the museum has set up strict security around the presumably precious piece of art. Getting it will be quite a challenge, but together Simon and Nicole devise a grand plan.
Hepburn stands out with her fabulous Givenchy wardrobe. This woman was the epitome of style and grace in her career. She brought all her comedic chops to the role of Nicole, while at the same time looking like she stepped out of a fashion magazine. Even in a cleaning woman's outfit, Hepburn manages to look stylish.
The plot is entertaining and the actors are enticing in their roles. John Williams (known as Johnny Williams in his early days) created a nice score for the background and William Wyler's direction made the film a hit among moviegoers when it as released in 1966.
This is definitely a fun film with plenty of adorable scenes. A bonus feature on this Blu-ray is a featurette about Audrey Hepburn. She starred in many memorable films in her career, and How to Steal a Million is one of her stylish and sophisticated movies. The actress was nominated for several awards and was presented posthumously with a humanitarian award by the Academy. Prior to this film, Hepburn starred in the 1964 musical My Fair Lady, the 1963 hit Charade, the 1961 drama The Children's Hour, and many more highly acclaimed films. She went on to star in less than a dozen films after making How to Steal a Million, retiring from motion pictures in 1989 at the age of 60.
How to Steal a Million is now available on Blu-ray from Twilight Time.
About the Author
Francine Brokaw has been covering all aspects of the entertainment industry for over 20 years. She also writes about products and travel. She has been published in national and international newspapers and magazines as well as Internet websites. She has written her own book, Beyond the Red Carpet The World of Entertainment Journalists, from Sourced Media Books.
Follow her on Twitter