'How to Be Single' on Blu-ray
Category:
Blu-ray's and DVD's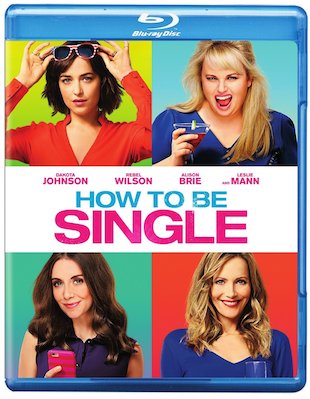 How to Be Single is a fun story of four women, each in different stages in their lives. What they all have in common is that they are all single.
Dakota Johnson is Alice, a college grad who has been living with her boyfriend Josh (Nicholas Braun). She suddenly decides she wants "a break" so she can experience being alone. She thinks if they take a break from each other for a little while, they'll be happier when they get back together.
Robin (Rebel Wilson) is a free spirited party girl who loves to drink and enjoy life. She is all about having fun.
Meg (Leslie Mann) is Alice's sister. She's an accomplished doctor living the life she loves. But suddenly she decides it's not enough and wants to have a baby. She relies on a sperm bank to help her fulfill this next step of her life. She doesn't count on meeting a man and falling in love. But when this happens her whole outlook about her future changes.
Lucy (Alison Brie) is hard at work looking for her soul mate. She has her profile on several dating websites and sets out to find the man of her dreams methodically and with purpose.
Tom (Anders Holm) owns the bar across the street from Lucy's apartment. This is the place where the women's roads intersect. Tom doesn't want strings. He loves women but not one single woman. Lucy relies on him for advice, Robin knows he's great for a night, and Alice discovers he's a good friend often with benefits.
Each of the women go on a self-discovery journey as the months pass and they figure out who they are and what makes them happy. Will Lucy find her soul mate and get married, just like she has always wanted? Will Meg be happy being a single mother? Will Alice and Josh reconnect for good or will their separation be the end of their relationship? And will Robin change her ways and settle down? Anything can happen. Life is filled with different choices and as these women learn, many of them are beyond our control but in the end, we end up where we are meant to be.
Bonus features include deleted scenes and outtakes. There are also featurettes about the characters and situations that make up the movie. Perhaps the most interesting bonus is a look behind the scenes at the making of the film. Viewers will see how the filmmakers changed much of the dialogue as they were filming and even asked the actors for their input. It looks like an easy set on which to work, and it's clear that everyone had a great time during the production of the film.
Dakota Johnson and Rebel Wilson are both entertaining to watch in this movie. Wilson is the whacky one while Johnson is the caring young woman conflicted about life.
This is an appealing little film that is definitely not for youngsters. It is a fun way to spend an evening on the couch with a bowl of popcorn.
How to Be Single is rated R for sexual content and strong language throughout. It's also available on DVD.