Hot in Cleveland - Season 4 DVD
Category:
Blu-ray's and DVD's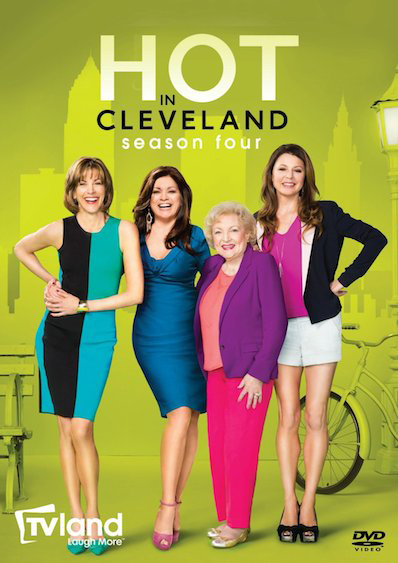 What can be said about the great ensemble cast of this hit TV Land sitcom except they are hot, hot, hot? Hot in Cleveland has taken the network to new heights. This original sitcom is a multi-generational weekly viewing appointment among households around the country.
The four seasoned TV veterans – Betty White, Valerie Bertinelli, Jane Leeves, and Wendie Malick – perform a beautifully choreographed sitcom on a weekly basis. Or do they? The bonus feature on this 3-disc set is a hysterical 20-minute feature with plenty of laugh-out-loud moments (trust me – I literally laughed-out-loud the whole time) with bloopers, outtakes, improvisations, jokes, and more. It's clear that these four women – along with all of their guest stars – have a fun time creating this show, and viewers reap the benefits.
And speaking of guest stars, this cast has the clout to bring in some of the top names in show business: Mary Tyler Moore, Valerie Harper, Cloris Leachman, Jesse Tyler Ferguson, Georgia Engel, Tim Conway, Eddie Cibrian, Regis Philbin, Heather Locklear, and even Carol Burnett. How's that for guest stars?
In season four the foursome continues their hilarious antics, with Victoria (Malick) marrying Sir Emmet Lawson (Alan Dale), Elka and Mamie (White and Engel) running a drug dispensary, Joy (Leeves) going to college and working for a private investigator, and Melanie (Bertinelli) falling in love with her boss who is also dating his boss. And, to add to the fun, Joy's grandson Wilber spends time with the girls, Victoria gets a part in a Woody Allen movie, Joy has a fling with a firefighter, and many more situations occur during this fourth season of fun with the whacky, irrepressible, and downright entertaining foursome.
Hot in Cleveland Season 4 is a delightful 3-disc set with all of the episodes from the season along with that laugh-out-loud bonus feature. It's not rated, however the target age is 30+.
About the Author
Francine Brokaw has been covering all aspects of the entertainment business for 20 years. She also writes about technology and has been a travel writer for the past 12 years. She has been published in national and international newspapers and magazines as well as Internet websites. She has written her own book, Beyond the Red Carpet: The World of Entertainment Journalists, from Sourced Media Books.
Follow her on Twitter
Like her on Facebook