'Hope Springs' on Blu-ray
Category:
Blu-ray's and DVD's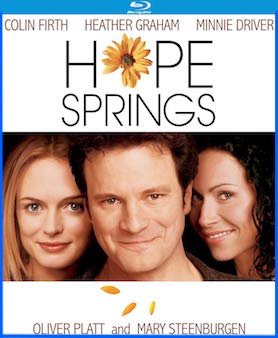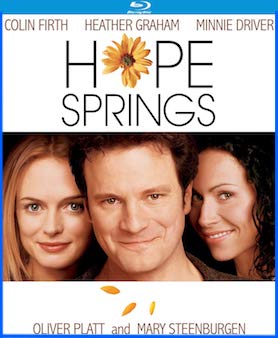 Hope Springsis a 2003 romantic comedy starring Colin Firth, Heather Graham, Minnie Driver, Oliver Platt, and Mary Steenburgen. Firth is Colin Ware, an artist who has just been dumped by his fiancée Vera (Driver). So, what does someone do in that situation? If you're Ware you travel from London to Hope, Vermont, a quaint New England town where he hopes to get his life back on track. And just how did he decide to go to Hope? Well, he liked the name.
Ware takes refuge in the local motel where he finds more than just a room. The innkeeper (Steenburgen) sends her friend Mandy (Graham) over to his room to help him get over his heartbreak. Mandy is a therapist, of sorts. She works at the Shining Shores nursing home.
Ware and Mandy hit it off from the start and soon they're dating and are the town's hot couple. But when Vera shows up and wants him back, things get a bit dicey. She has every intention of waiting for him to go back to London, but Mandy is just as determined, although a bit jealous of their past.
Nothing is a secret in this little town. Gossip runs rampant but these people are loyal to the core. And Ware becomes part of their town, so they are loyal to him as well. The whole town is rooting for Ware and Mandy, but Vera has some tricks up her sleeve.
The movie was filmed in British Colombia, not Vermont. It is based on a novel (New Cardiff) by Charles Webb, the author of "The Graduate." He knows about small towns. The Graduatelooked at Pasadena, and Hope Springslooks at a small New England town. Small towns seem to be his forte.
The bonus feature on the Blu-ray is a "making of" where viewers go behind the scenes with the cast, crew, and filmmakers to discover their feelings about the story and the film.
Hope Springsis a fun, quirky film. The characters are eccentric and even though he is unusual, Ware is a fun character. The movie isn't the best romantic comedy but if you're a fan of Firth you will probably enjoy it.
About the Author
Francine Brokaw has been covering all aspects of the entertainment industry for over 25 years. She also writes about products and travel. She has been published in national and international newspapers and magazines as well as Internet websites. She has written her own book, Beyond the Red Carpet The World of Entertainment Journalists, from Sourced Media Books.
Follow her on Twitter