'Hope Gap' now on DVD
Category:
Blu-ray's and DVD's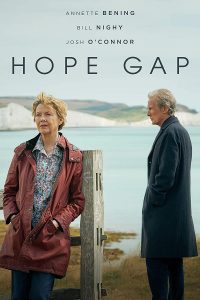 Annette Bening, Bill Nighy, and Josh O'Conner star in Hope Gap, a dramatic story of life and lost love. This is a slow-paced family drama delving into the life of one family as they face a turning point in their world.
Grace (Bening) thinks she has a basically happy marriage, although she realizes there are some obstacles between herself and her husband Edward (Nighy). But what she does not know is that he has had enough. He has fallen in love with someone else. Out of the blue he informs Grace that he is leaving her, effective immediately. She is incensed. How can he make this decision alone? They never talked about it. She had no idea this was coming.
There to help her through the difficult time is their grown son Jamie (O'Connor) who also has some problems going on in his personal life. But Jamie travels from the city to the country every weekend to be with his mom to help her get on with her life.
Grace says she needs time to mourn. After all, what she is experiencing is a death – the death of her marriage. She says being a widow would be better than having a husband walk out on her.
In the meantime, Jamie also struggles and is the go-between between his mother and father. Grace refuses to give up and hopes beyond hope that Edward will return to her. But he has fallen in love and is living with his girlfriend. While Jamie tries to get her to come to terms with reality, Grace goes through emotional upheaval.
The movie is not about Edward; it is about Grace and Jamie. After all, Edward has moved on and is living a happy life with his girlfriend. But Grace was left in the cold and Jamie also has to deal with the grief of the split of his parents as well as the depression his mother is suffering.
The story unwinds in various locations in the UK with bleak weather and grey skies, adding to the mood of the film. Hope Gap is rated PG-13 for some thematic elements and brief strong language.
About the Author
Francine Brokaw has been covering all aspects of the entertainment industry for over 25 years. She also writes about products and travel. She has been published in national and international newspapers and magazines as well as Internet websites. She has written her own book, Beyond the Red Carpet The World of Entertainment Journalists, from Sourced Media Book.