Home - Movie Review
Category:
Movies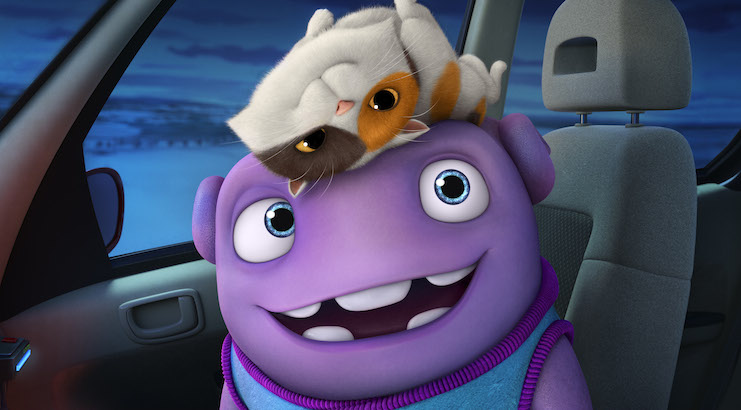 DreamWorks Animation's newest film is clever, witty, and fun. Home is a story of love, friendship, and understanding.
The Boov are a species of aliens that are on the move whenever they are located by their arch nemesis The Gorg. This time the Boov select a little planet named Earth to invade and use as their new home. Once on the planet they take all the humans to a remote location. But one little girl manages to unwittingly evade their capture, thanks to her cat sitting on the top of her head.
Gratuity Tucci, nicknamed "Tip," is left alone surrounded by the Boov. She and her cat named Pig, yes, pig, are intent on finding her mother. So when Tip comes in contact with Oh, a clumsy Boov with a big heart, they join forces to locate her mother, in the car Oh modified for their journey. Oh has unintentionally sent out a "warming of the house" party invitation to the entire galaxy and beyond, which will lead the Gorg right to Earth. While Tip is heading toward her mother, Oh is trying to evade the other Boov who are angry with their bumbling friend for putting them in danger again.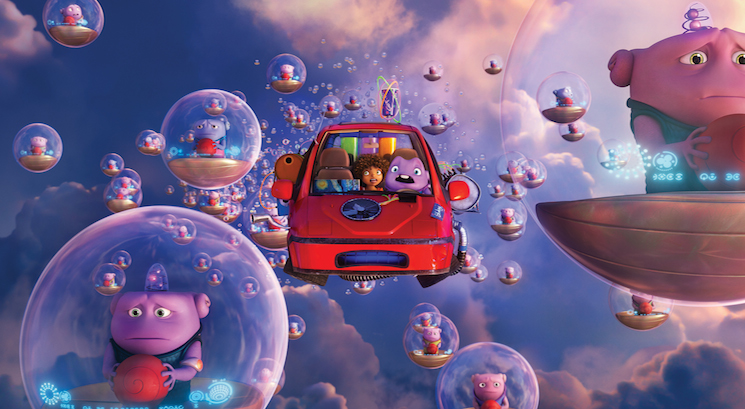 Rihanna supplies the voice of 12-year-old Tip and Jim Parsons is the voice of Oh. After seeing the movie, there is no one else who could have done justice to this bumbling misfit than Parsons. His inflections are right on, and his personality shines through.
Director Tim Johnson said "It's very much a buddy movie, and it's also about a clash of cultures coming to an incredible understanding and blossoming into a fun and beautiful friendship between Oh and Tip." Jim Parsons added, "You never know where, and with whom, you're going to find friendship." This is not only a story of the two cultures, but also a story of these two very different entities forging a lasting commitment and strong bond.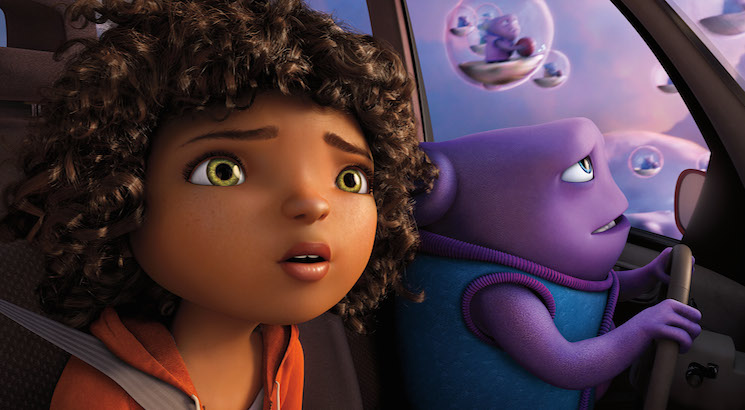 What is fun about the Boov is their way with words. If this film strikes a chord with audiences, kids will start talking like the Boov. Do you remember when Star Wars came out and people began talking like Yoda? Well, the Boov have an even more entertaining way of talking and mixing up words. Yet the meanings of what they say is clear. They just express things a little differently than we do. For instance, Oh does not fit in. He "fits out."
Others lending their voices to the characters are Steve Martin who is Captain Smek, the leader of the Boov, Matt Jones is Kyle, Oh's sometimes friend, and Jennifer Lopez is Lucy, Tip's mom. The fun interaction between spunky Tip and fun-loving Oh is delightful to watch, as are the interactions and actions of the color-changing Boov.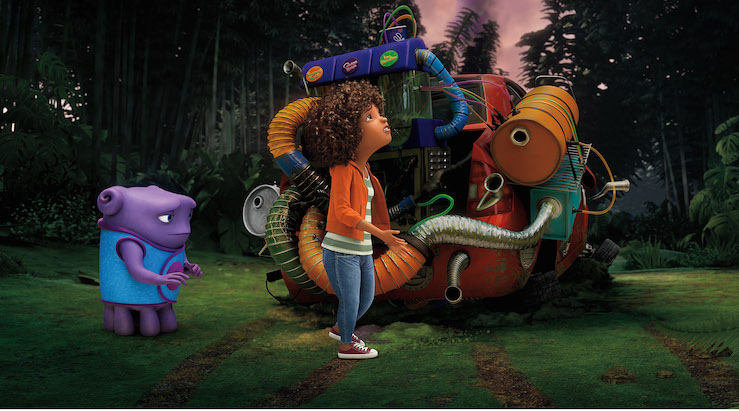 Rihanna also lends her musical talent for the soundtrack. She said she wanted "to ensure that, lyrically and musically, the songs were exactly what were needed for a given scene."
"It's the most interesting 'playtime' I've ever had as an actor," Parson admitted. And audiences will most likely find this film a fun time as well.
Home opens in theaters Friday, March 27, 2015. Note: The screening I saw was in 3D however this movie doesn't have to be seen in 3D. It is just as enjoyable in 2D.
Home is rated PG for mild action and some rude humor.
For more Boov fun, go to www.dreamworks.com
About the Author
Francine Brokaw has been covering all aspects of the entertainment business for 20 years. She also writes about technology and has been a travel writer for the past 12 years. She has been published in national and international newspapers and magazines as well as internet websites. She has written her own book, Beyond the Red Carpet The World of Entertainment Journalists, from Sourced Media Books.
Follow her on Twitter
Like her on Facebook