Home Fires on PBS
Category:
Television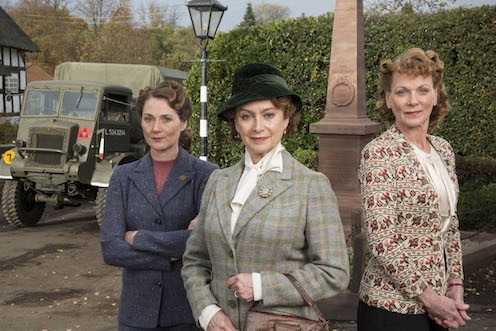 Masterpiece on PBS has given us many memorable series through the years. Most recently is Downton Abbey. The upcoming season of that memorable show is the final for Downton, however there is no need to think nothing will be as compelling and addicting again. On the contrary, Home Fires is an engaging new drama about to air on PBS.
Home Fires takes place in a small English village at the time the country is preparing for World War II. The Women's Institute is the focal point for many of the woman in the village. It's where they gather and help the community with various projects. Currently they are planning for the eventual war and deciding what the women of the town can do for their village and their country.
Bitter rivals erupt among the women in the group. However the most gripping stories are behind closed doors. Some of the women have emotional and tragic stories that have been hidden from the town, and some are dealing with potential scandal. And the newest resident to the village hides her own secret past that could destroy her future.
While one woman is being abused by her husband, another is hiding the facts of her late husband. Another is dealing with an absentee husband and another is facing her husband's deadly illness. There are wealthy women and poor ones. There are those that work outside of the home and those that are "housewives." But the camaraderie between them sees them through the bad times and strengthens them during the good times.
All of this plays out with the threat of war on the horizon. And when war does come, the women and the town must band together. While war is spreading around the world, the people grow stronger together. Their personal stories are compelling and their friendship is heartening. This is indeed a "must see" for anyone who enjoys great British drama.
On a personal note: I was able to view the entire season (in one day) and was thoroughly engaged in this drama. Home Fires is addicting.
Home Fires premiers Sunday, October 4, 2015 on PBS.
About the Author
Francine Brokaw has been covering all aspects of the entertainment business for 20 years. She also writes about technology and has been a travel writer for the past 12 years. She has been published in national and international newspapers and magazines as well as internet websites. She has written her own book, Beyond the Red Carpet The World of Entertainment Journalists, from Sourced Media Books.
Follow her on Twitter