'Holly Star' available on digital and VOD
Category:
Movies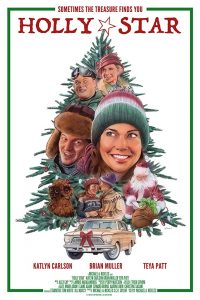 Holly Star is a cute holiday movie filled with comedy and heart, not to mention a little mystery.
Katlyn Carlson stars as Sloan, a woman who is having a string of bad luck. She just got fired, lost her apartment in New York, came back to her childhood home in Maine forgetting her parents are on a cruise, was gifted her grandmother's old Rambler that is costing her more money every day, and is kind of a klutz. Back in her hometown she is reunited with her best friend Kay K (Teya Patt) and her childhood friend Andy (Brian Muller).
After slipping on some ice she experiences a near-death-experience. In that moment she has a vision of Santa burying a bag. Sloan knows this means something and wants to search for that mysterious treasure. She enlists Kay K, a hard-nosed paintball leader and tough gal to help put the pieces together so they can find the buried treasure. Sloan is convinced her vision means something.
When they come up empty, Sloan asks Kay K to try to kill her so she can have another near-death-experience and hopefully find the answers she is looking for.
In the meantime, to get her "new" car out of the impound facility, she takes a job at Andy's Christmas tree lot helping him and his father. This is the only way she can earn enough money to get the car back and survive because nothing else is available.
With memories popping back in her mind, her tough-as-nails best friend, her tango-dancing grandmother, and her childhood friend, Sloan is having a Christmas to remember – literally.
The movie is cute and has a sweet ending. It's rated PG for language, some thematic elements, and smoking. Holly Star is available on digital and VOD beginning December 4, 2018.
About the Author
Francine Brokaw has been covering all aspects of the entertainment industry for over 25 years. She also writes about products and travel. She has been published in national and international newspapers and magazines as well as Internet websites. She has written her own book, Beyond the Red Carpet The World of Entertainment Journalists, from Sourced Media Books.
Follow her on Twitter