Holiday magic returns to Disneyland Resort as well as new attractions (2023)
Category:
Travel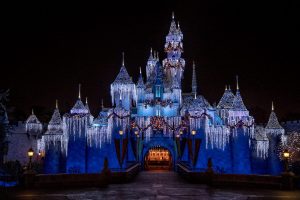 It's that time of year – again. Disneyland Resort is now all decked out for the season. Once again in Disneyland Sleeping Beauty's castle is adorned with festive winter icicles and snow and 'it's a small world' has transformed into a holiday magic land.  The tree in Town Square is up and decorated and guests can experience the daily "A Christmas Fantasy Parade."  While over at Disney California Adventure the traditions of the holidays from around the world are back.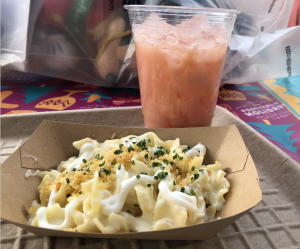 And let's definitely not forget about the food of the season. Pick up a Sip-and-Savor Pass to make tasting these treats easy. It's a snap…literally, and is good through January 7 2024 so you'll have plenty of time to go back for more treats. My favorites this year were the Savory Kugel Mac & Cheese and the Guava-Melon Lassi (non-alcoholic) beverage. Delicious.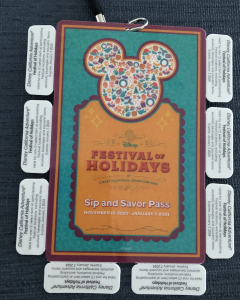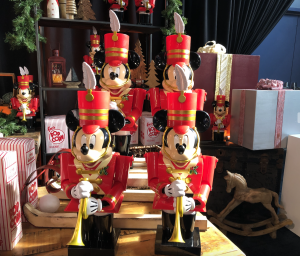 Fiesta Disney Viva Navidad! is filled with colors and music. Throughout the park street music fills the air and parades make the holidays a bit more magical, as if any time in Disneyland Resort isn't magical. After all, it's The Happiest Place on Earth. And this time of year it's also the most magical. Plus the merchandise (this is Disney after all) is magnificent this year. There are plenty of fun items for Christmas and Chanukah to make everyone's holiday joyful and filled with a little dash of Disney magic.
Many families make enjoying the holidays at Disneyland Resort an annual event. Yes, there are many of the same things to experience but there are also new ones as well, not least of which is the food prepared especially for the season.
Here is a list of some of the new goodies offered this holiday season at the resort:
NEW! Filipino feast burrito from Studio Catering Co.: Pork belly adobo fried rice, pancit and lumpia in a warm flour tortilla with sweet chili dipping sauce
NEW! Mickey ornament macaron from Jolly Holiday Bakery Cafe: Pearl-dusted white macaron shells filled with chocolate ganache and peppermint mousse
NEW! Tacos gobernador from Paradise Garden Grill: Chipotle-marinated shrimp tacos with pepper Jack cheese served with Spanish rice and refried beans
NEW! Peppermint hot chocolate from Splitsville Luxury Lanes:Peppermint hot chocolate topped with whipped cream, peppermint candy cane, crushed peppermint candy, red sprinkles and cocoa powder
To see all the great offerings this year (there are too  many scrumptious delicacies to include in this article), please read about them at the Disney Eats Foodie Guides:
Festival of holidays guide includes the new holiday treats and another foodie guide looks at more delicious offerings this year. Check them out before you go to make sure you don't miss anything you especially want to try.
New Places 
Now, putting the holidays aside for a minute, let's look at some of the other new things happening at the resort. First is the Adventureland Treehouse inspired by Walt Disney's Swiss Family Robinson. This is an entirely new attraction. It's really quite ingenious how this family created their home. Everywhere you look there is something unique or fun or just plain interesting.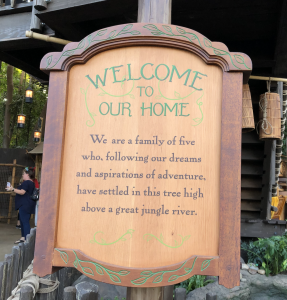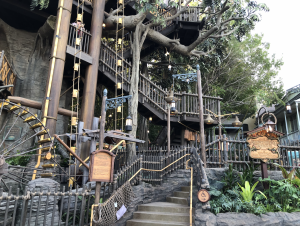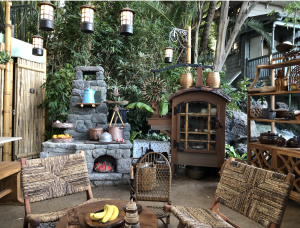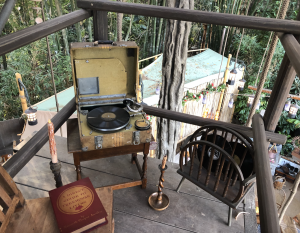 And the view from the top is magnificent. Just be aware that there are a lot of steps to climb to get to the top, but it's worth it. The treehouse looks like a great place to live although the noise would probably drive me crazy after a while. Oh well. It's a fun place to visit but I wouldn't want to live there.
Take a look at a video of the new treehouse.
Also new and on the horizon is the Disney Vacation Club's Villas at Disneyland Hotel. It is a modern and colorful addition to the DVC growing list of locations. The Villas at Disneyland Hotel has 344 guest rooms all themed for Disney guests. "The Villas at Disneyland Hotel celebrates the remarkable legacy of Walt Disney Animation Studios' storytelling and the creative process these talented artists go through to bring Disney characters to life from sketch to screen," said Bill Diercksen, senior vice president and general manager of Disney Vacation Club. "With imaginative details and spacious accommodations, this beautiful new tower is the perfect place for families to create magical vacation memories for years to come." This 12-story tower is the 16th property for DVC, and more are just around the corner, not literally though. The villas add additional magic to your Disneyland experience.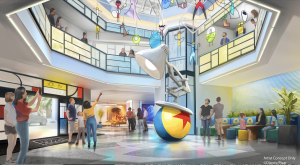 On January 30 the newly-themed Pixar Place Hotel will open giving guests yet another way to enjoy their vacation. With new places to eat, play, swim, and have fun this hotel is an attraction in itself.
And let's not forget Tiana's Palace is now open serving up delicious (and often spicy) Cajun food for the whole family. Tiana (and the Disney chefs) provide some special treats for guests featuring a fun New Orleans flair.
Stay tuned for more news from Disneyland Resort. In the meantime, enjoy the holiday season at both Disneyland, Disney California Adventure, and Downtown Disney. Happy Holidays!
About the Author
Francine Brokaw has been covering all aspects of the entertainment industry for over 30 years. She also writes about products and travel. She has been published in national and international newspapers and magazines as well as Internet websites. She has written her own book, Beyond the Red Carpet The World of Entertainment Journalists, is the entertainment correspondent for Good Day Orange County, and has her own TV show, Beyond the Red Carpet, on Village Television in Orange County. She is a longstanding member of the Television Critics Association and is accredited by the MPAA. Follow her on Twitter.