Hindenburg: The Last Flight on DVD
Category:
Blu-ray's and DVD's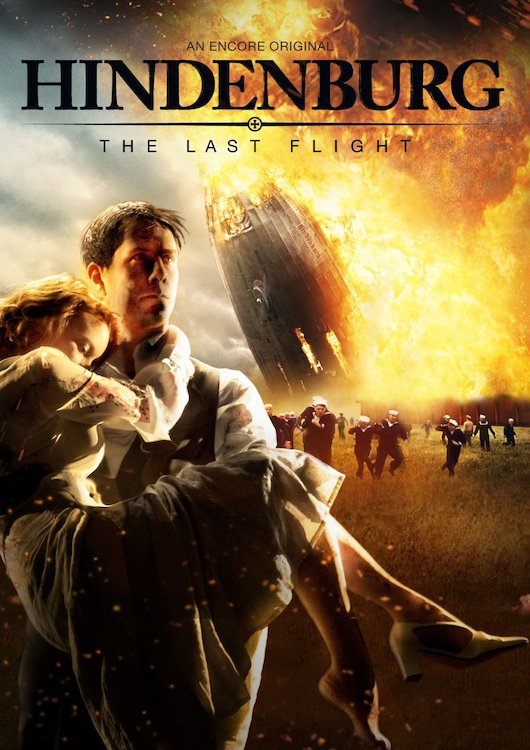 This 2011 made-for-TV (Encore) miniseries is now available on DVD. Hindenburg: The Last Flight, is a fictional story putting forth an alternate history of the final and fatal flight of the giant airship.
In the same vane as the film Titanic, Hindenburg follows a group of passengers as they travel from Germany to America aboard the fated Zeppelin. Yes, the airship exploded on landing, something we all know, but the reason for the explosion is fictionalized in this film.
It was 1937 and the world was on the brink of war. Among those aboard the ship is a Jewish family fleeing the inevitable persecution in their homeland, Nazi soldiers, an entertainer, and the wife and daughter of an American oil industrialist.
Also on board is one of the designers of the Zeppelin, who sneaks on the ship after learning there is a bomb aboard. He needs to find the bomb before it goes off, killing everyone on the Hindenburg. But who is responsible for the bomb? And, more importantly, why would anyone want to bomb the airship?
What viewers see unfold is the fictional story behind the explosion, which centers on money, of course. The Germans need what the American oilman can supply, and he wants the riches he will amass if the trade embargo between the United States and Germany is lifted. So both Hitler's inner ranks and this American industrialist concoct a scheme to prove that the embargo needs to be lifted. And that scheme involves blowing up the Hindenburg.
Murder, politics, heroics, selfishness, love, romance, and everything else combine to create this dramatic story. It has some scenes of interest, however some of the acting is a little juvenile. This seems like a low budget show however some might find it entertaining. The movie was filmed in Germany and stars Maximilian Simonischek, Lauren Lee Smith, Greta Scacchi, and Stacy Keach. Perhaps the most interesting part of the show is seeing how passengers were accommodated on the large airship. Although it is not an exact replication of the Hindenburg, the atmosphere is similar, when compared to actual photos of the Zeppelin.
Hindenburg: The Last Flight runs 191 minutes. It's not rated however it is not for young viewers.
About the Author
Francine Brokaw has been covering all aspects of the entertainment business for 20 years. She also writes about technology and has been a travel writer for the past 12 years. She has been published in national and international newspapers and magazines as well as Internet websites. She has written her own book, Beyond the Red Carpet: The World of Entertainment Journalists, from Sourced Media Books.
Follow her on Twitter
Like her on Facebook