'High Plains Drifter' Special Edition
Category:
Blu-ray's and DVD's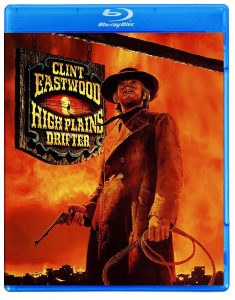 The classic Clint Eastwood western High Plains Drifter Special Edition from Kino Lorber Classics is packed with bonuses. In this 'The Man with No Name" 1973 film, Eastwood cements his legendary status as movie hero.
Eastwood stars as "The Stranger" who comes to the town of Lago. He is hired to protect the people from some gunmen who are about to be released from jail and who are intent on causing harm.  Among the costars are Verna Bloom, Marianna Hill, Mitchell Ryan, John Hillerman, Jack Ging, Anthony James, and Geoffrey Lewis. Eastwood directed the movie and his performance as the brooding, cigar-smoking stranger is one that is beloved by his fans.
This special edition includes several brand new interviews that prove to be as interesting as the movie itself.  First, Marianna Hill discusses her character and says that women of the time were supposed to be "the moral high ground" for the community. She also describes how she got started in the industry and admits that acting made her happy. She thoroughly enjoyed her career and making this film. Ms. Hill also discusses Clint Eastwood as a man and a director. As a director he trusted his instincts and the actors.
Another new interview is with Mitchell Ryan. He describes the film as "a rare kind of western," and like Hill, thoroughly enjoyed making the movie. The film was produced on location in the High Sierras, a place Eastwood thought was the most beautiful area he had seen. Ryan admits he goes back to the High Sierras once a year. It is scenic and idyllic and a nice place to enjoy nature. Ryan, like Hill, says Eastwood is a great director who gives his actors "a lot of room." Perhaps it is because he himself is an actor, or just because he knows that actors can inhabit their characters and portray the story as well as he can direct them.
William O'Connell joined the others in praising the production that was filmed in only six weeks. Another bonus is a vintage short about Clint Eastwood.
High Plains Drifter is a classic Clint Eastwood film. It's not your average Western, however fans of the actor/director have taken it to their hearts and it remains one of his notable Western films.
About the Author
Francine Brokaw has been covering all aspects of the entertainment industry for over 25 years. She also writes about products and travel. She has been published in national and international newspapers and magazines as well as Internet websites. She has written her own book, Beyond the Red Carpet The World of Entertainment Journalists, from Sourced Media Books, is the entertainment correspondent for Good Day Orange County, and has her own TV show, Beyond the Red Carpet, on Village Television in Orange County. She is a longstanding member of the Los Angeles Press Club and the Television Critics Association.