'Hidden Figures' on Blu-ray
Category:
Blu-ray's and DVD's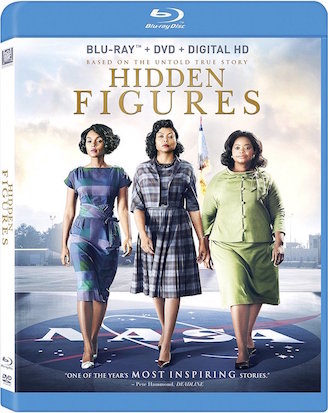 Hidden Figures is not only an inspirational film, but it is also an historical one as well. It brings to light the stories of three women whose stories have been kept in the closet, so to speak. The time was 1961. NASA was preparing to launch astronauts into space and eventually reach the moon. Women were second string when it came to working in businesses, and especially the agency. And blacks were segregated in the south.
Katherine Johnson (Taraji P. Henson), Dorothy Vaughan (Octavia Spencer), and Mary Jackson (Janelle Monae) worked in the Virginia campus of NASA as computers, the term used to describe their positions. This was 1961, the time that pre-dated actual computers. These women were the ones who crunched the numbers. They were basically the same as the white male engineers, but due to the time in history, they were not considered as equals.
Most people have never heard of these three women, but after watching this film they will understand how important they were to the history of America.
Johnson's genius in mathematics earned her a position in the all-male all-white engineer department. The men did not welcome her with open arms. But her intellect and steadfastness gained her the recognition she deserved, although it took time.
Jackson wanted to apply to be an engineer but needed some specific classes to fulfill the requirements. They were given at an all-white school. Her determination led her to petition the court to allow her to attend classes, and she finally integrated the school.
And Vaughan was concerned that her job and those of the other women at NASA would be non-existent with the installation of the big IBM computer. She realized it took people to run it so she set out to learn everything she could about this new machine and eventually took over the department.
Kevin Costner, Kirsten Dunst, and Jim Parsons add superb content to the film.
Bonus features on the Blu-ray are just as fascinating as the movie itself. As Kevin Costner states, this story was "buried in history." Viewers also learn the history of NACA, which became NASA, and gain more insight into the women and the agency. The real Katherine Johnson comments about her experiences at NASA. Also, viewers learn how the movie came to be made. It was filmed in Georgia with a crew that was 33 percent women. That was a change from films today that use about 20 percent women on the crews. Deleted scenes round out the additional features.
Hidden Figures was nominated for three Academy Awards. It's rated PG for thematic elements and some language. This is a great movie to watch with your family. It's not only engaging but also a wonderful lesson for us all.
About the Author
Francine Brokaw has been covering all aspects of the entertainment industry for over 20 years. She also writes about products and travel. She has been published in national and international newspapers and magazines as well as Internet websites. She has written her own book, Beyond the Red Carpet The World of Entertainment Journalists, from Sourced Media Books.
Follow her on Twitter