He's a Bully, Charlie Brown on DVD
Category:
Blu-ray's and DVD's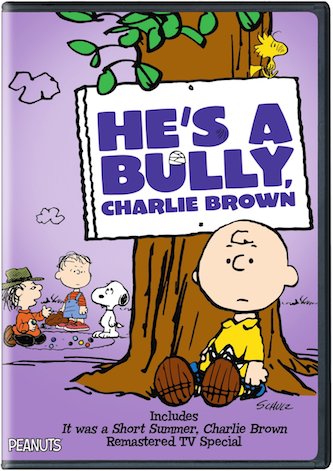 The Peanuts gang is back for another fun episode. Actually three stories are included in this new DVD: "He's a Bully, Charlie Brown," "It's a Short Summer, Charlie Brown," and an episode from "The Charlie Brown & Snoopy Show."
Good grief! Everyone is going to summer camp except Peppermint Patty who must stay home to attend summer school. Even little Rerun is going. Lucy and Linus' younger brother is anxious to learn to play marbles and be a champ like his grandfather. But the little kid gets suckered into losing all of his marbles to the camp's bully. It's then when good old Charlie Brown steps in and with the help of Snoopy, learns to play marbles and wins all of little Rerun's marbles back. Yes, Charlie Brown is the hero in this story.
"It's a Short Summer, Charlie Brown" also takes place in summer camp. It's the boys against the girls in swimming and softball and all kinds of competitions. Lucy and Peppermint Patty have made the girls into a real team, while the boys are pretty much not working together. But when they decide to challenge the girls to a wrist-wrestling contest, it is Snoopy who, disguised as "The Masked Marvel," is up against Lucy to see who is the champ.
The final episode in this collection has a bit of everything. Little Rerun has plenty of adventures on the back of his mom's bicycle. What will Linus do when his blanket is lost? And there are more fun antics with the gang as they continue to entertain viewers as only they can do.
Mary Ellen Thomas, Vice President Family & Animation Marketing at Warner Bros. said, "We're delighted to release this inspiring collection. If you love Peanuts, this is one title you won't want to miss."
Whether you love Charlie Brown, Linus, Schroeder (who manages to take his piano to camp), Lucy, Rerun, Peppermint Patty, Marci, Snoopy, Patty, Franklin, Pigpen, or Sally, you'll find they all have fun in this collection of Peanuts stories that is meant for the entire family.
About the Author
Francine Brokaw has been covering all aspects of the entertainment business for 20 years. She also writes about technology and has been a travel writer for the past 12 years. She has been published in national and international newspapers and magazines as well as internet websites. She has written her own book, Beyond the Red Carpet The World of Entertainment Journalists, from Sourced Media Books.
Follow her on Twitter