Hercules Special Edition Combo Pack
Category:
Blu-ray's and DVD's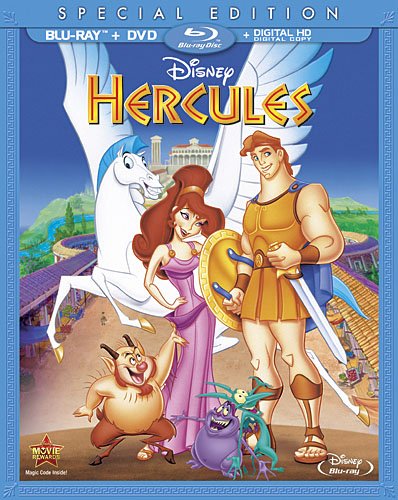 Hercules is the 35th full-length animated feature from the Disney studios. It's also the first one to be based on mythology instead of a fairy tale. The music, which is a large part of the film, was nominated for an Academy Award. This 1997 movie definitely has appeal for all ages.
Hercules is the story of the son of Zeus (voiced by Rip Torn). He is taken by the evil Hades (voiced by James Woods) who instructs his cohorts Pain (Bobcat Goldthwait) and Panic (Matt Frewer), to kill him, but the baby doesn't die. Instead he is turned into a human from a God, and left on the road. He is then found by a loving couple who raises him as their own.
Even though Hercules (voiced by Tate Donovan) is human, he still has his super human strength. He's kind of like Bamm Bamm in The Flintstones. When he realizes who he really is, he goes up to Mount Olympus to meet his father. There he is told the only way to regain his true legacy is to do something heroic.
Hercules employs the help of Philoctetes (Danny DeVito), much like Luke Skywalker turned to Yoda for help. Phil has trained many before and now hopes Hercules will be his best pupil.
Well, with Hades trying to take over and Hercules trying to be heroic, there are plenty of antics, mixed with a lot of music. Soon, Hercules is the talk of the town. He is famous, but "being famous isn't the same as being a real hero." He is told to "look inside your heart." It is then, when he does something truly unselfish, when he proves his worth.
The bonus features include a sing-along, and a music video. There is also an interesting "making of" featurette in which the filmmakers and voice acting talent discuss the story and the movie. Alan Menken, who also worked on The Little Mermaid, Beauty and the Beast, Aladdin, Pocahontas, The Hunchback of Notre Dame, and more, composed the soundtrack. For Hercules, Menken combines gospel with R&B and added a little classical to the blend to create the spirit of the film.
There are so many great talent lending their voices to this film, including, Charlton Heston, Susan Egan, Samantha Eggar, Barbara Barrie, Hal Holbrook, Paul Shaffer, Amanda Plummer, and others.
Hercules is rated G for everyone. This Special Edition includes a Blu-ray disc, a DVD, and a Digital Copy. There's something for everyone in the movie, including, yes, true love.
About the Author
Francine Brokaw has been covering all aspects of the entertainment business for 20 years. She also writes about technology and has been a travel writer for the past 12 years. She has been published in national and international newspapers and magazines as well as internet websites. She has written her own book, Beyond the Red Carpet The World of Entertainment Journalists, from Sourced Media Books.
Follow her on Twitter
Like her on Facebook