Her Alibi on DVD
Category:
Blu-ray's and DVD's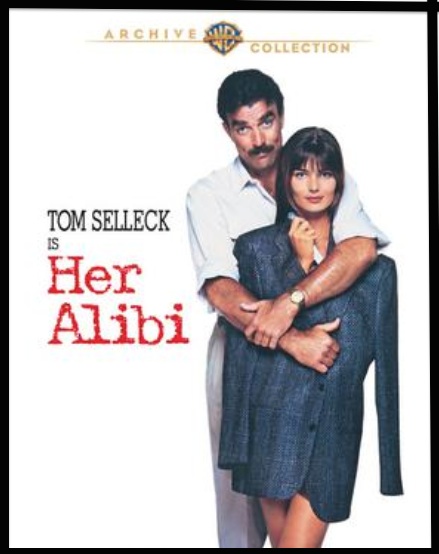 Tom Selleck stars in this 1989 comedy, along with Paulina Porizkova. Selleck, who currently stars in the hit TV series Blue Bloods, has had a long career and became a pop culture icon in his long-running series Magnum, P.I. (1980-1988). Her Alibi shows off Selleck's comedic abilities as well as his dramatic talent when he plays a bumbling writer of detective novels (ala Richard Castle) who gets involved in an international dilemma.
Phil Blackwood (Selleck) has writers block. If he doesn't come up with a new story soon, his career as a novelist might be at an end. Then, while searching for a new story, he sees Nina (Porizkova) who is being charged with murder. Feeling she is innocent, he decides to be her alibi, telling the police that they are having an affair and she was with him at the time of the murder.
The alibi is enough to get Nina out of jail and she moves into Blackwood's lush Connecticut house. Then little by little he starts to have doubts about Nina's innocence. What if he was wrong? What if she actually is a murderer? Is he in danger?
When things start happening around his house, Blackwood gets jumpier and jumpier. There is definitely something Nina is not telling him. But even as he gets more nervous, he finds himself falling in love with this beautiful woman. As things start happening it gets funnier and funnier.
Nina is the muse that restarts his writing. Blackwood uses his experiences with her for his new novel. He bases himself as the model for his hero, however he changes his behavior to a suave, sophisticated, and able character instead of the awkward, clumsy man that he is.
This is definitely a movie filled with plenty of fun and a lot of humor, mainly from Selleck. He is definitely not the man he writes about in his detective novels, yet he does admit he uses himself as the basis for the character. Ha. They are as different as night and day. But even though women adore his fictional character, Blackwood is definitely more fun and entertaining. And who could resist Tom Selleck?
If you are in the mood for a fun and enjoyable film, Her Alibi fits the bill.
Her Alibi is part of the Warner Archive Collection and is available from their website www.wbshop.com. The movie is rated PG.
About the Author
Francine Brokaw has been covering all aspects of the entertainment business for 20 years. She also writes about technology and has been a travel writer for the past 12 years. She has been published in national and international newspapers and magazines as well as internet websites. She has written her own book, Beyond the Red Carpet The World of Entertainment Journalists, from Sourced Media Books.
Follow her on Twitter
Like her on Facebook