'Henry & Me' is an emotional story with heart
Category:
Blu-ray's and DVD's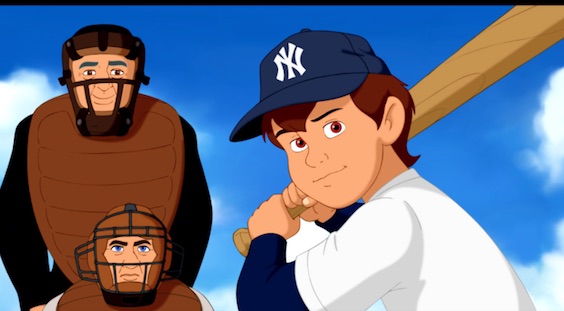 Henry & Me is a sentimental yet uplifting animated story about one little boy's journey from an emotional and physical challenge to hope and confidence about his life and future. The beginning is quite touching and possibly tearful for some viewers, but the journey of little Jack will lift anyone's heart as he discovers there is a great, wonderful world out there to live and experience.
Jack (voiced by Austin Williams) is a big Yankees fan. This kid plays catch in his backyard with his dad and they enjoy their baseball time together. But Jack gets sick and while in the children's cancer ward he loses all hope and desire. He insists on still wearing his Yankee hat, especially to cover his bald head from the chemo, but he has lost his zest and exuberance.
While sedated and awaiting yet another procedure, Jack is visited by a man named Henry (voiced by Richard Gere). Henry takes Jack on a magical journey to meet NY Yankees players from the past and present. Along the way they instill a sense of confidence in the boy. He is challenged to hit a ball and pitch a ball – against real Yankees. With encouragement and love, Jack gains self-confidence and regains his enjoyment for life that was lost when he got sick. He discovers he has fun again and when the time comes for him to return to his real life, the boy doesn't want to go back. At least here, in this fantasy world, he has hair, can run around, isn't tired, and enjoys life. But all things must come to an end. Or do they?
Once Jack wakes up, back in the hospital, he is a different fellow than the frightened boy who went into the procedure hours before. He now has a sense of confidence and knows he can get better and go out and play his beloved baseball again. And who knows? Perhaps he will wind up playing for the Yankees when he gets older.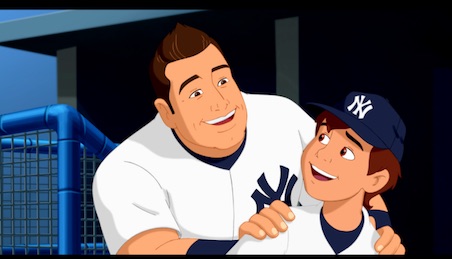 On his journey Jack has encounters with Babe Ruth (Chazz Palminteri), Thurman Munson (Paul Simon), Lefty Gomez (Luis Guzman), Mickey Mantle (David Mantle), and in a surprise to everyone, Lou Gehrig.
Other voice actors include Lucy Arnaz, Cyndi Lauper, Danny Aiello, Reggie Jackson, Yogi Berra, Joe Girardi, and Hank Steinbrenner voicing his father George.
While the story does deal with the sensitive issue of childhood cancer, it is an uplifting story that shows how much our emotions and mental determination we have helps with our physical bodies. We need to stay positive even in difficult situations. And as little Jack learned, there is plenty to hold onto even when the odds are against you. While not every outcome is the same as his, Jack does regain his confidence and gets over his illness.
Henry & Me is currently available on Demand and Digital HD and will be out on DVD October 4, 2016.
Check out the trailer from Henry and Me:
About the Author
Francine Brokaw has been covering all aspects of the entertainment industry for 20 years. She also writes about products and travel. She has been published in national and international newspapers and magazines as well as Internet websites. She has written her own book, Beyond the Red Carpet The World of Entertainment Journalists, from Sourced Media Books.
Follow her on Twitter