'Hello, My Name is Doris' – on Blu-ray and DVD
Category:
Blu-ray's and DVD's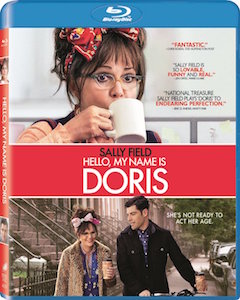 Sally Field carries this story about an eccentric woman who falls for a much younger man. Field is Doris, a single woman who just lost her mother. She is not an everyday kind of gal. As a matter of fact, she's definitely unique. Hello, My Name is Doris is her story of hope.
Doris is a hoarder. Her house is filled to the brim with junk. She wears odd clothing and fifties-style cat-eye glasses. She works quietly in her cubicle and has a crush on John (Max Greenfield), the new guy in the office. The thing is, he's young enough to be her son.
To get to John, Doris uses cyber-stalking and discovers his love of a certain band. Not being familiar with electronic music she has no idea who they are, but searches them out in the store. Then she attends one of their concerts where she "accidentally" runs into John. From there their friendship blossoms and they become good buddies. Doris enjoys being with John and his friends, and they embrace her quirkiness. She becomes one of the gang. But she wants more from John. She honestly sees them being a couple.
Her imagination goes into overdrive sometimes and viewers see her thoughts as she encounters John in several locations. Her fantasies take over until she is brought back to reality.
Her new stature in life is a nice change for her. She had been a wallflower for most of her life, but now is out enjoying the world and a variety of new people, thanks to John but to the consternation of her best friend Roz (Tyne Daly). Doris takes to heart the advice of a personal growth guru (Peter Gallagher) who tells her not to think about something as being "impossible." Instead, she is told to think, "I'm possible." These two words of encouragement becomes her mantra as she sheds her shy personality and blossoms into a fun and fun-loving woman.
Bonus features include deleted and extended scenes.
The movie is enchanting at times as viewers get caught up in the transformation of Doris as they go along with her on this wild, whacky ride.
Hello, My Name is Doris is rated R for language.
About the Author
Francine Brokaw has been covering all aspects of the entertainment industry for 20 years. She also writes about products and travel. She has been published in national and international newspapers and magazines as well as Internet websites. She has written her own book, Beyond the Red Carpet The World of Entertainment Journalists, from Sourced Media Books.
Follow her on Twitter