'Heaven Sent' on DVD
Category:
Blu-ray's and DVD's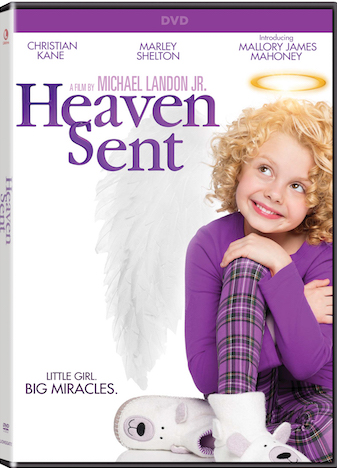 Heaven Sent is heartwarming yet a little bittersweet. It's the story of a delightful and innocent little 8-year-old angel named Taylor who ran away from Heaven to live with a couple whose marriage in on the rocks. Her deep desire is to bring them back together.
Christian Kane (Leverage and The Librarians) is Billy, a man who still loves his wife Marie (Marley Shelton) even though she insists he sign the divorce documents. Years earlier they had suffered a terrible loss and their marriage has not been as happy as it once was.
Then one day a blonde, curly haired little girl arrives in their kitchen. Their hearts are kind and they take care of her until the authorities can find her parents. The thing is no one can see her except Billy and Marie. Then they discover she is an angel and she tells them she ran away from Heaven because she wanted to see what it would be like to have a mom and dad. The trio forms a close family but they know this is all just temporary. After all, Taylor is an angel. She cannot stay with them forever, although they love her deeply and enjoy having her in their lives.
Will Taylor be able to accomplish her goal of bringing them back together so they will continue their marriage, or will they split up once and for all? Mallory James Mahoney stars as Taylor, the precocious little angel with ulterior motives. She's fun to watch as she worms her way into the lives and hearts of these two people.
The movie was originally made for the holidays and aired on Lifetime. With Michael Landon, Jr. as the director, you know it is going to have the heart of a family at its core. And this is definitely a family oriented film. Landon has made his mark in the family genre, following in the footsteps of his father.
Ernie Hudson makes an appearance as the guardian of the little angel who has taken care of her ever since she arrived in Heaven.
There are a few surprises at the end of the story, however viewers might just figure out one of them long before it is disclosed. Little Taylor is fun to see as her curiosity about life helps bring the couple back in synch.
While this is definitely a sweet and sensitive story, it is also a little bit sad, although that will depend on your point of view. In any case, it is a good film filled with a lot of love and the spark of a pint sized angel.
Although it was designed as a Christmas story, it is much more than that. It is an anytime story filled with heart – and soul.
About the Author
Francine Brokaw has been covering all aspects of the entertainment industry for over 20 years. She also writes about products and travel. She has been published in national and international newspapers and magazines as well as Internet websites. She has written her own book, Beyond the Red Carpet The World of Entertainment Journalists, from Sourced Media Books.
Follow her on Twitter