Heaven Knows, Mr. Allison on Blu-Ray
Category:
Blu-ray's and DVD's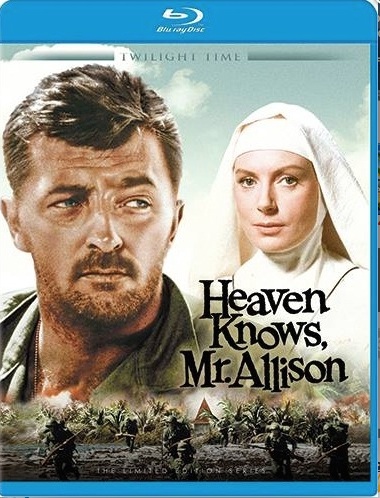 Deborah Kerr and Robert Mitchum star in this 1957 movie about a marine stranded on a deserted island with a nun during World War II. Heaven Knows, Mr. Allison is a study of human behavior when Corporal Allison and Sister Angela forge an alliance and beautiful friendship in order to survive when the Japanese take over the island.
It's 1944 and Marine Allison has been adrift in a raft for a while when he lands on a small island. The only other person there is Sister Angela, who had been there to look after an elderly priest who then died, leaving her alone on the little island. There is plenty of fish, fruit, and fresh water making survival for the pair somewhat easy, however when the Japanese arrive, the two must take refuge in a small cave.
At one point Sister Angela thinks she should turn herself into the Japanese to make his survival easier, but the marine won't hear of it. He insists they work together to stay alive. And in doing so, he falls in love with her. Could a sweet nun possibly fall in love with a hard-nosed marine?
Most of the film consists of just the two of them –a nun and a marine. Their relationship grows as the days pass and they learn to rely on each other. Their feelings for each other are strong, but are her feelings for God stronger than her love for this man?
The ending might inspire some viewers and might disappoint others. I found myself comparing this to the comedy Father Goose, however the stories are much different. They both put two people against the Japanese on a small Pacific island, however their circumstances are much different.
Heaven Knows, Mr. Allison is a dramatic story of humanity, hope, faith, and love. Mitchum is sweet as the tough marine with a heart of gold, and Kerr is adorable as the nun who discovers she has a gritty side. This movie is not rated. This Blu-Ray is a limited edition of 3,000 units.
About the Author
Francine Brokaw has been covering all aspects of the entertainment business for 20 years. She also writes about technology and has been a travel writer for the past 12 years. She has been published in national and international newspapers and magazines as well as internet websites. She has written her own book, Beyond the Red Carpet The World of Entertainment Journalists, from Sourced Media Books.
Follow her on Twitter
Like her on Facebook