Heaven is for Real Combo Pack
Category:
Blu-ray's and DVD's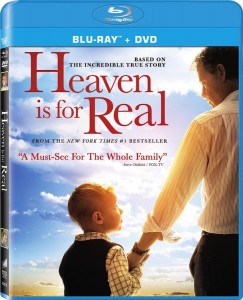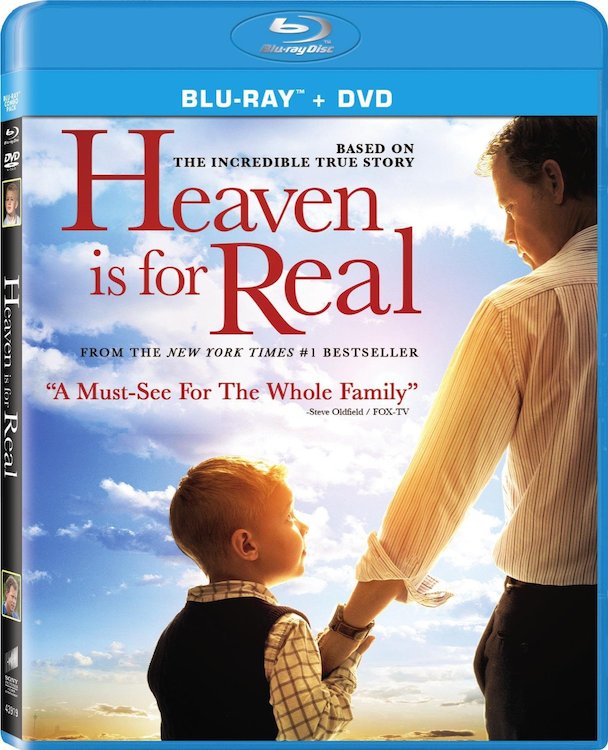 We've all thought about it. We've seen movies, heard stories, read books, and contemplated the idea of something more to life. Heaven is for Real is the true story about a boy who says he visited heaven. Based on the New York Times bestselling book, this movie tells the heartwarming story of four-year-old Colton Burpo whose story of his visit to heaven has changed the lives of countless people around the world.
Greg Kinnear stars as Todd Burpo, the father of this incredible young boy. Todd owns a garage door company, is a volunteer firefighter, coaches wrestling at the local school, is the father of two young kids, and is the minister in the local church. He wears a lot of hats, but the most important comes when his son is near death and he must gather the conviction to understand something no one knows exactly how to deal with.
Young Colton (Connor Corum) is a sweet little boy. He's an average four-year-old. He likes to play and his patience for sitting still is lacking. He's a busy little tyke. When he falls ill, his mother (Kelly Reilly) and father take him to the hospital where he is rushed into surgery to save his life. This little guy is near death. He ends up surviving and little by little he reveals what happened to him while he was in the operating room.
Colton has no concept that his story about visiting heaven would be controversial. After all, he's just a little kid, and his experience was basically normal to him. His discussion about heaven does something to his father. Todd is torn apart by his son's story. He's a minister yet he has a hard time dealing with the story that Colton tells. Then Colton reveals things that he couldn't possibly know. This is startling to Todd and his wife.
Colton is a sweet innocent child, yet his knowledge of things that happened before he was born is remarkable. How does he know these things?
This movie has touched people around the world. It is definitely slanted to the Christian side, but is still interesting to non-Christians. It provides people with not only hope, but also answers. Most of us want to believe there is more to life than what we see in the here and now. Colton's story, and that of others, is something that adds comfort to anyone dealing with a tragedy, death, or facing adversity.
Bonus features include deleted scenes and a "making of" featurette. There is also a featurette about how the filmmakers created "their" heaven. What exactly does heaven look like? It's interesting to see how they combined artistic elements to make the heaven we see in the film. The real Burpo family also discusses their experience and how it plays out in the movie.
This is young Connor's first film. He is charming as the kid who discusses his experience matter-of-factly without any prejudice.
Heaven is for Real is rated PG for thematic material including some medical situations.
About the Author
Francine Brokaw has been covering all aspects of the entertainment business for 20 years. She also writes about technology and has been a travel writer for the past 12 years. She has been published in national and international newspapers and magazines as well as internet websites. She has written her own book, Beyond the Red Carpet The World of Entertainment Journalists, from Sourced Media Books.
Follow her on Twitter
Like her on Facebook