Hear No Evil Premiers on TV One
Category:
Television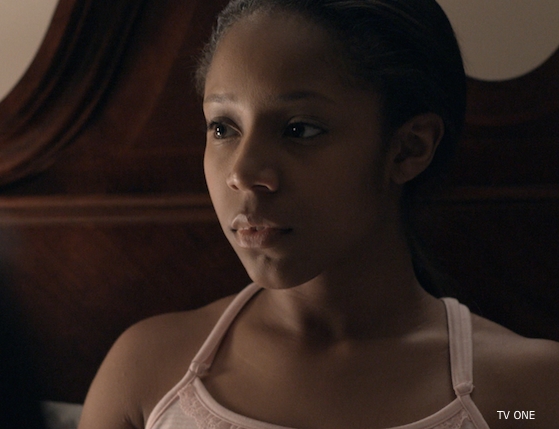 Shelby (Jahnee Wallace) is a sensitive 15-year-old girl who has been deaf since she was a baby. Then one day she is struck by lightening and her hearing suddenly returns. But regaining her hearing is only part of her new life. Hear No Evil is a new religious-inspired film that will air on TV One.
Shelby lives with her parents (Jill Marie Jones and Richard T. Jones), her younger sister Brie (Kala Davis), and her freeloading uncle Jason (Jackie Long). When her hearing is restored her life is completely changed, and not for the reason you think. Shelby now hears God. While her mother discounts this, her uncle Jason milks it for all it is worth. He even wants to get his niece connected with a carnival. Shelby has insights no one else could possibly know. Except God.
While the young girl is struggling with all the voices in her head, she manages to help people by giving them messages from God. She even helps her father, an attorney, with a case that has been troubling him. But sometimes knowing things that no one else knows can be a burden.
This new insight and all the voices in her head are almost too much for the young girl. She was at peace when she was deaf and everything was fine for her, but now she is in an almost-constant state of distress.
This is an interesting story, with an interesting premise. It is not unusual for people to change when they are struck by lightening, if they survive. But Shelby's new state of existence comes with a burden. "Hearing is overrated," she says, when comparing her old life with the new one. She loves the fact that she can hear her parents and sister's voices, but the price she pays for all the voices in her head is almost too much for her to bear. And when she realizes who is behind one of the city's notorious murders, her life is put in danger. Everyone knows about the girl who talks to God and knows things that are secret. This fact puts her life in peril as she struggles with realities that now confront her. But what's interesting is that she takes it basically all in stride.
Jahnee Wallace plays Shelby with a quiet easiness. Her calm way of dealing with new facts is a little strange. And her family's reaction to her renewed hearing, not to mention the new abilities, is odd. They don't seem as overjoyed as viewers might expect. At least it seemed a little strange to me. All the characters are basically low-keyed about all the new events in their lives.
Hear No Evil premiers on TV One March 14, 2015. TV One was launched January 2004 and is seen in 57 million households. It is targeted to a diverse audience of black viewers.
About the Author
Francine Brokaw has been covering all aspects of the entertainment business for 20 years. She also writes about technology and has been a travel writer for the past 12 years. She has been published in national and international newspapers and magazines as well as internet websites. She has written her own book, Beyond the Red Carpet The World of Entertainment Journalists, from Sourced Media Books.
Follow her on Twitter
Like her on Facebook