Hayley Mills and Deborah Kerr in 'The Chalk Garden'
Category:
Blu-ray's and DVD's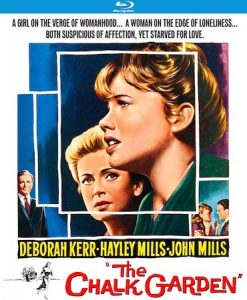 The 1964 film The Chalk Garden stars Deborah Kerr, Halyey Mills, John Mills, and Edith Evans in a drama about love, family, and personal growth. Evans was nominated for an Academy Award for her supporting role.
Laurel (Hayley Mills) is a sixteen-year-old young woman living with her wealthy grandmother, Mrs. St. Maugham. The girl is troubled and depressed, feeling unloved by everyone, and with good reason. She is so emotionally damaged she constantly lies and starts fires. There is definitely inner conflict in her soul, but there is also good. Miss Madrigal (Kerr) is hired as her governess. Madrigal has a hidden past that Laurel is determined to uncover.
Laurel's mother Olivia (Elizabeth Sellars) has a new life with a new husband and now she wants her daughter returned to her. But Mrs. Maugham wants to hold onto her granddaughter, even if it is not in the girl's best interest.
Maitland (John Mills) works at the house and is a friend to the family. He sees what is going on and understands everyone connected with this weird little group more than they know. This is the quintessential dysfunctional family.
Madrigal, with her obvious troubled past, is determined to keep her job, but not because she needs it. She knows she can help Laurel and save her from a future of trouble and possibly the law.
The characters mix in an unusual way as Laurel, the spoiled yet emotionally damaged girl, manages to control what goes on in the house. Or so she thinks. Maitland and Madrigal are up to the task of handling Laurel, whereas her grandmother does not fully understand the depth of the anger and upheaval that rages in the young woman.
This film was produced four years after Hayley Mills took the spotlight in the film Pollyanna, and the following year in The Parent Trap. Kerr had a long list of great films prior to this movie, including From Here to Eternity, The King and I, and An Affair to Remember, just to name a few. And John Mills had been acting for three decades before making this film. Father and daughter co-starred the following year in The Truth About Spring and they also appeared together in several other films.
The Chalk Garden is about family neglect, family bonds, and self-sacrifice. It is not rated.
About the Author
Francine Brokaw has been covering all aspects of the entertainment industry for over 25 years. She also writes about products and travel. She has been published in national and international newspapers and magazines as well as Internet websites. She has written her own book, Beyond the Red Carpet The World of Entertainment Journalists, from Sourced Media Books, is the entertainment correspondent for Good Day Orange County, and has her own TV show, Beyond the Red Carpet, on Village Television in Orange County. She is a longstanding member of the Los Angeles Press Club and the Television Critics Association.