Have More Fun with Frozen
Category:
Movies
Disney's Frozen is a magical film introducing some memorable characters.
There are several products with the characters from the film. Most of them relate to Queen Elsa, Princess Anna, Sven the reindeer, and Olaf the snowman. Here are a few great products that make gift shopping easy!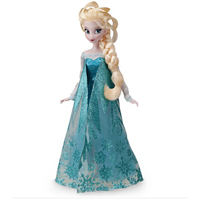 Elsa Classic Doll
The pictures of this doll do not do her justice. But when I actually got the doll and was able to see her up close, I was enchanted by her face and gown. Elsa's smile is sweet and her makeup is beautiful. All in all, her expression is much nicer in person than it appears in the photos. And her gown is gorgeous. It doesn't photograph as lovely as it is. It's sparkling teal blue with snowflake cutouts that don't come across as beautiful in the photo. And her long blonde hair is shiny and well coiffed. Take it from me, this doll needs to be seen in person. The more I look at her, the more beautiful she gets.
The Elsa Classic Doll is for ages 3+. She stands 12" high and lists for $16.95. Because she is strikingly beautiful, this is a doll that will appeal to all ages.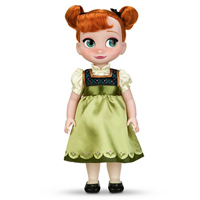 Anna Toddler Doll
Anna is one of the newest additions to the award-winning Disney Animators' Toddler Doll Collection. Audiences don't always get the chance to see the characters as they were when they were kids. We're often introduced to them as adults. Frozen introduces Anna and Elsa as children, and the toddler dolls represent the girls in their early years. The Anna toddler doll is adorable and captures her sweetness as well as her desire for excitement. The dress is adorned with the Rosemaling (decorative Norwegian folk art) that the filmmakers included in the movie. It adds a Scandinavian look to the clothing, and makes this doll look like she stepped out of the movie. Little Anna will delight young and adult fans of the film. Her face conveys the sweet little girl that first appears in the film, and this doll is definitely going to be well hugged by kids. She's just the right size for little arms, and for older girls she can be put on a stand and placed on a shelf to be cherished. However, she's too cute not to hold from time to time.
The Anna Toddler Doll is for ages 3+, stands 16" high, and lists for $24.95.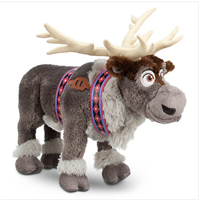 Sven Plush
Sven is a loveable reindeer who steals every scene in which he appears. While Olaf the snowman is the comic relief in the movie, Sven adds the heart. Yes, heart. This guy is definitely loveable and the stuffed version doesn't need carrots to eat. He will be a mainstay in many little beds, that's for sure. He's cuddly and kids will enjoy "conversing" with him just like Kristoff does in the movie.
Sven stands 10" high, and over 16" high with his soft antlers. He lists for $19.95. Loveable little Sven is a cute addition to any stuffed animal collection for young and old. Just look into his eyes and you have to say, "aww."
About the Author
Francine Brokaw has been covering all aspects of the entertainment business for 20 years. She also writes about technology and has been a travel writer for the past 12 years. She has been published in national and international newspapers and magazines as well as Internet websites. She has written her own book, Beyond the Red Carpet: The World of Entertainment Journalists, from Sourced Media Books.
Follow her on Twitter
Like her on Facebook