Great Wolf Lodge Opens in Southern California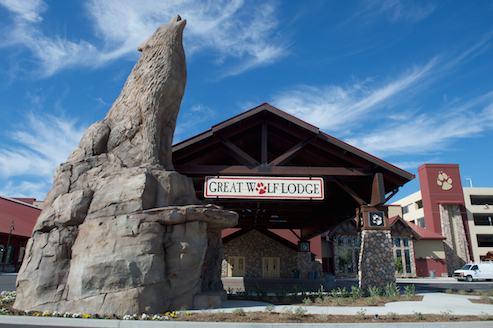 Great Wolf Lodge has opened its 13th resort, this time in Southern California. Located in Garden Grove, about 40 minutes (without traffic) from LAX, the resort provides year-round fun for families.
First, the resort boasts an enormous indoor water park which encompasses 120,000 square feet of great H2O fun, whether it be sliding down one of the many water slides, swimming and playing in the pools, surfing in the Wolf Rider Wipeout pool, or simply playing in the waves. What makes this water park so enjoyable is that there is no need to slather on the sunscreen. It's all inside and the temperature is a constant 84 degrees with the water temp kept between 82 and 83 degrees, so no one will get a chill when exiting one pool and heading to another. For those who love the sun, there is one outside pool with more water fun. Parents don't need to worry because there are complementary lifejackets available and plenty of lifeguards in every pool. Children do need to be accompanied by an adult though.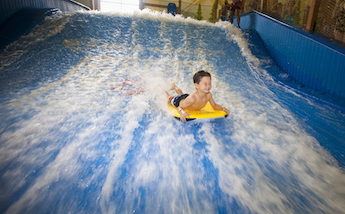 If you're thinking a water park isn't a good idea for drought-ridden California, the water park contains 565,000 gallons of water, which is less than an Olympic-size swimming pool. The water is filtered, treated, heated, and reused. And the way they use it, with all the slides (over 4,000 feet in all) and recirculation, it is not even a proverbial drop in the bucket.
The water park is probably the main focus of this resort, however there are plenty of other activities that deserve recognition and consideration when planning your next family vacation. There is the 24-hour Northern Lights Arcade with over 100 games from which to choose. And there is a shortened bowling alley with five-pound balls so little ones can enjoy the game. As if that's not enough, there is a glow-in-the-dark indoor miniature golf course too.


Little ones can take advantage of the Scooops (no misspelling) Kid Spa with several choices, including a Mommy & Me Pedicure ($79.99), manicures ($44.99), a princess experience ($89.99), and other options. And every option includes an ice cream dessert.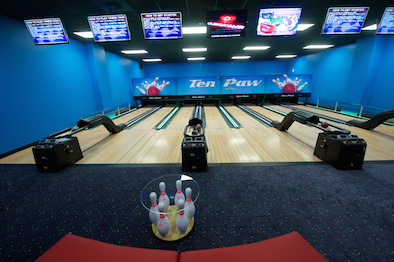 The HowlyWood XD Theater presents 5-minute special effects films with motion seats that react to the films. Audiences get right into the action here.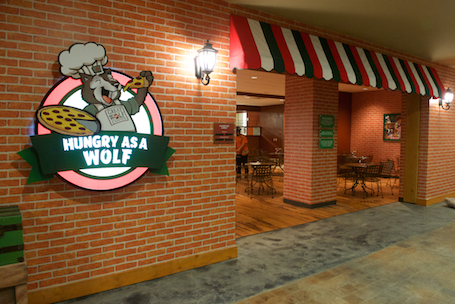 Seven eateries provide guests with plenty of choices, from a simple buffet to a table-service restaurant. And with three stores in the resort, there is everything from swimming essentials to jewelry to all kinds of souvenirs and stuffed animals. One store even has a sort of build-a-bear area with the various characters from the resort.
And speaking of the Great Wolf Lodge characters, they consist of the mascot, Wiley the Wolf, along with fellow wolf Violet, Oliver and Rachel Raccoon, Brinley Bear, and Sammy the Squirrel. The lodge has several character appearances during the day as well as a Wolf Walk where guests learn about the great Northwoods wildlife.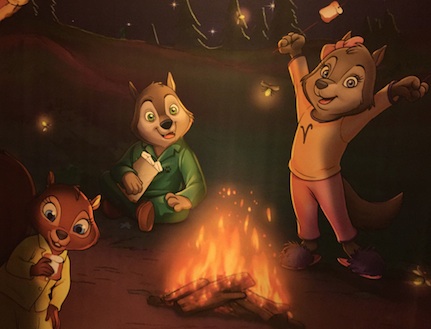 Story Time happens in the lobby area every night at 8 and 9 pm. Little ones gather (often already in their PJs) to hear a bedtime story before heading back to their rooms. The different room options sleep up to 7 guests.
Included in the nightly room fee is free admittance to all areas of the lodge, however, with the exception of the water park, each activity is a separate fee. When registering guests get wristbands so there is no need to carry any money. Simply use the wristband to charge any activity or food to the room.
MagiQuest is a game that is available to play throughout the resort. Magic wands (starting at $18 and can be personalized with options and additional games) work throughout the resort at several locations. The interactive game gives guests challenges and plenty of fun with the wave of the magic wand. This wand can be used at any of the Great Wolf Lodge resorts. Currently there are 13 with more planned throughout the country.
What might appeal to parents is that for every night guests get two days of fun in the resort. Even if your room is not ready when you get to the lodge, you can start taking advantage of all the activities, and on the day of check-out guests can still access the water park and activities until closing.
Holidays are made special at the resort with Howl-O-Ween October (plenty of special activities corresponding to Halloween) and Snowland December where snow falls daily in the Grand Lobby.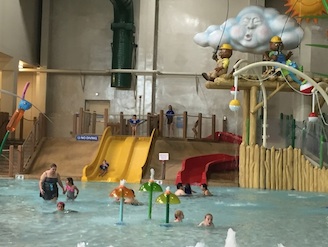 "At Great Wolf Lodge, we want each family to have a truly memorable experience," said CEO Ruben Rodriguez. There are standard suites as well as themed suites. Every room is a suite with plenty of room (no pun intended) to move around.


Great Wolf Lodge Garden Grove offers visitors to Southern California another option for a family vacation. It's really an interesting family destination, and close to other resorts including Knott's Berry Farm and Disneyland. Great Wolf Lodge has a relaxed, family-feel with everything under one roof.
About the Author
Francine Brokaw has been covering all aspects of the entertainment industry for 20 years. She also writes about products and travel. She has been published in national and international newspapers and magazines as well as Internet websites. She has written her own book, Beyond the Red Carpet The World of Entertainment Journalists, from Sourced Media Books.
Follow her on Twitter