'Great Voices Sing John Denver' Documentary
Category:
Blu-ray's and DVD's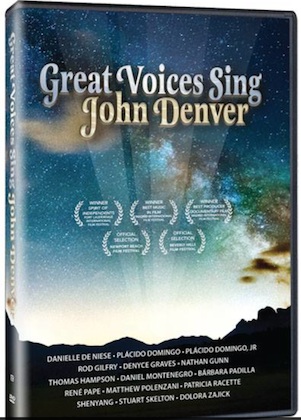 John Denver was one of the greatest songwriters of the 20th Century. His songs and melodies impart emotion and heart. It's clear he put his heart into every song he wrote and/or sang. His folk/pop style is tied to his songs forever, yet this new project will change people's perception of the songs. Great Voices Sing John Denver is an award-winning documentary about the making of a new CD of Denver songs reimagined by 15 renowned singers from a completely different genre – opera.
While the CD is entertaining to hear for fans of Denver and all the singers on the tracks, the film explains how Denver's songs affected the singers and translated into their styles. Viewers get some background about Denver, the songs, and the singers and then are treated to seeing the recording sessions of the songs.
It's interesting for fans of Denver to watch his songs being transformed into the classic style, however it's also interesting to shut your eyes as the songs play and listen intently to them. Listening to his melodies and words in a new light is, well, enlightening. John Denver was an amazing songwriter and hearing his songs performed this way adds to the appreciation of this man's work.
Placido Domingo, Danielle de Niese, Patricia Racette, Matthew Polemzani, Dolora Zajick, Placido Domingo, Jr, Rod Gilfry, Denyce Graves, Nathan Gunn, Thomas Hampson, Daniel Montenegro, Barbara Padilla, Rene Pape, Shenyang, and Stuart Skelton lend their amazing voices to this project. These opera singers from around the world are some of the best on earth and for some of them, this project was the first time they had sung a pop song.
This film will enlighten viewers and fans of Denver will see him in a new light. They might even want to hear more from some of the singers. But the bottom line is that the homage paid to him is unique.
Plácido Domingo says, "I think John Denver was a phenomenal human being. He was somebody with morals who loved people. I believe his character is reflected in his music and without any doubt John is one of the great pop artists of our generation." Domingo recorded the duet "Perhaps Love" with John Denver in 1981. For this new recording, Domingo sings it with his son.
"Annie's Song" is the final song on this film and is sung by the entire group. It's a beautiful rendition of the iconic John Denver song. The classically-trained singers take the song to a new height, yet the song will never be thought of as anything other than a John Denver song.
Denver died in 1997 at the age of 53. It's hard to imagine all the songs that we would have had today had he not perished in a plane crash.

Great Voices Sing John Denver won the Spirit of Independents special jury award at the 2013 Fort Lauderdale International Film Festival as well as Best Producer of a Documentary and Best Music in Film at the Madrid International Film Festival. It was also a selection at the 2014 Newport Beach Film Festival, Beverly Hills Film Festival, Lucerne International Film Festival, and the 2016 Coronado Island Film Festival. It is available on Blu-ray and DVD.
Bonus features on the discs include foreign language versions of some of the songs. The CD is also available. You can purchase the film here.
About the Author
Francine Brokaw has been covering all aspects of the entertainment industry for 20 years. She also writes about products and travel. She has been published in national and international newspapers and magazines as well as Internet websites. She has written her own book, Beyond the Red Carpet The World of Entertainment Journalists, from Sourced Media Books.
Follow her on Twitter