Grace of Monaco to Premier on Lifetime
Category:
Television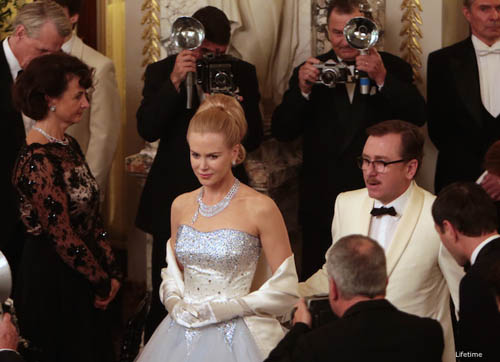 Grace of Monaco is a film that delves into a chapter in the life of the Grace Kelly. It focuses on the political turmoil of Monaco in 1962 and the internal frustration of Grace who was flirting with an offer from Alfred Hitchcock to star in his film Marnie.
When Grace Kelly married Prince Rainier it seemed like a fairy tale. But as the public later discovered, it was far from that. "The idea of my life as a fairy tale is itself a fairy tale," said Grace Kelly, aka Princess Grace of Monaco. As viewers will see, and historians know, Grace was not beloved in Monaco when she first arrived. She had a difficult time adjusting to her new life and the culture. Then in 1962 everything changed.
At the time America was focused on The Cuban Missile Crisis, Monaco was looking at a blockade itself. France's Charles De Gaulle wanted to make the small country part of France and tax the Monegasques. He did not like the fact it was basically a tax haven. Yet Princess Rainier was against taxation.
As Rainier was about to lose his country, which had been under the reign of his family for centuries, he was also teetering on the edge of losing his wife. Grace was not happy and wanted to return to Hollywood. But there were things going on inside the palace that tugged at her sense of responsibility.
The film focuses on this time in the history of Monaco and the life of Grace Kelly. While it was not a fairy tale life, she managed her best to create a life while still staying true to herself.
Nicole Kidman stars as Grace and brings a human quality to the woman many think of as simply an actress or a princess. Grace had a difficult time with her new life until she decided to embrace it and everything it had to offer. She immersed herself in the history, the people, and the politics and finally won the love and adoration of the people.
The film also stars Tim Roth as Prince Rainier III, Frank Langella as Father Tucker who was Grace's confidante, and Parker Posey as one of her aides. Grace of Monaco shows the effect Grace had on the country and the people of Monaco. The film premiers Monday, May 25 on Lifetime.
About the Author
Francine Brokaw has been covering all aspects of the entertainment business for 20 years. She also writes about technology and has been a travel writer for the past 12 years. She has been published in national and international newspapers and magazines as well as internet websites. She has written her own book, Beyond the Red Carpet The World of Entertainment Journalists, from Sourced Media Books.
Follow her on Twitter
Like her on Facebook