'Grace and Frankie' Season Two on DVD
Category:
Blu-ray's and DVD's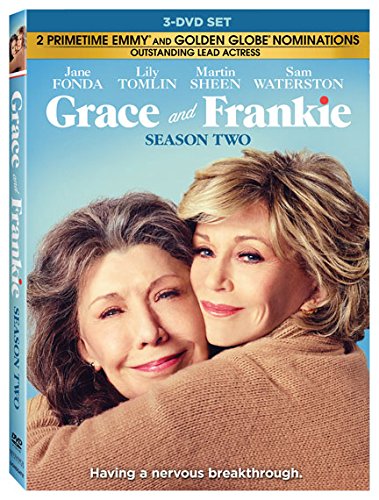 Grace and Frankie is a fun sitcom on Netflix. Season three is about to be released this spring on that network, so this is the perfect time to catch up on two of television's besties as they continue to maneuver through life. Grace and Frankie is the story of two women (Jane Fonda and Lily Tomlin) whose husbands (Martin Sheen and Sam Waterston) leave them to be together. They get married leaving their wives to fend for themselves.
The first season basically revolved around the women getting better acquainted with each other while sharing a beach house. They have to get on with their lives after the shock of learning their husbands are gay, and in love.
Not only are these two women dealing with their newfound single lives, they also have children – and grandchildren – to think of.
Season two has Grace getting on with her love life, in the form of her old beau (Sam Elliott). It also has Frankie moving into the business world.
Grace is the high-class sophisticated country club woman while Frankie is the hippie love child. They are definitely different but watching them meld their lives and lifestyles is what makes this as adorable as it is.
At the end of the first season Frankie and her ex, Sol, had a brief sexual encounter. This season Robert is dealing with the indiscretion of his husband. Their marriage is now on the rocks.
Also, Coyote goes in search of his birth mother, Brianna takes over her mother's company, Mallory is pregnant with twins, and Bud is working in Robert and Sol's law firm.
There are plenty of guest stars popping up throughout the season, but the main focus is on the two main stars. Fonda and Tomlin are at the top of their game in this series. They have a rapport that shows on screen.
If you don't have Netflix, check out seasons one and two on DVD. You just might decide to subscribe to that network.
Grace and Frankie show that the other side of middle age doesn't have to be bland and boring. On the contrary, these two women have a lot going on and still have sex appeal.
Grace and Frankie Season Two is available on DVD February 21, 2017. This is not rated however it is not for kids. It's completely adult language and content.
About the Author
Francine Brokaw has been covering all aspects of the entertainment industry for over 20 years. She also writes about products and travel. She has been published in national and international newspapers and magazines as well as Internet websites. She has written her own book, Beyond the Red Carpet The World of Entertainment Journalists, from Sourced Media Books.
Follow her on Twitter