Gourmet Detective Premiers on Hallmark Movies & Mysteries
Category:
Television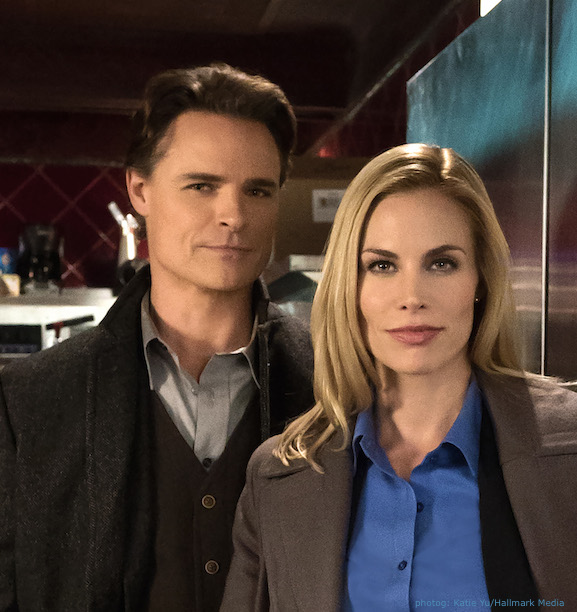 Dylan Neal (Cedar Cove) turns from charming cooking aficionado to charming detective in Hallmark Movies & Mysteries original film Gourmet Detective. Neal is Henry Ross, a chef extraordinaire who now writes a blog for aspiring chefs. Brook Burns is Maggie Price, a police detective that must work with Ross to find out who murdered a local news reporter who was about to blow the lid off a story that would affect the entire world of upper class restaurants in San Francisco.
If this sounds kind of familiar – with a civilian helping the homicide detective – then you are right. It's a little twist on the Castle plot, only in this movie it's the detective who is living with her mother and daughter and the civilian helping the police is a chef and not a mystery writer. That said, there are still some cute aspects of this movie.
As the newly formed investigative team puts together clues, the "who-done-it" gets more and more complicated. In the beginning Maggie is apprehensive about having Henry working with her team, but as time goes by they form a good relationship and prove their alliance is what it takes to put the clues together and get to the bottom of this frustrating, albeit flavorful, adventure, ahem, I mean case.
Dylan Neal co-wrote the script with his wife Becky Southwell, and he is an Executive Producer. The movie is based on the series of book by Peter King.
"The talented Dylan Neal has become an invaluable member of the Crown Media family with his successful turn on Hallmark Channel's first-ever scripted series, 'Debbie Macomber's Cedar Cove,'" said Michelle Vicary, Executive Vice President of Programming, Crown Media Family Networks. "Now, as the star, executive producer and co-writer of this exciting new Mystery Movie Series, Neal proves he is an irresistible draw for our loyal viewers, with electric chemistry opposite the charismatic Brooke Burns."
Gourmet Detective will take turns rolling out new original movies with the other detective movie franchises now on Hallmark Movies & Mysteries – Aurora Teagarden Mysteries, Garage Sale Mysteries, Hannah Swensen Mysteries, Signed, Sealed, Delivered, and now Gourmet Detective. These are good, old-fashioned, and dare I say wholesome movies that are fun escapes from our hectic lives.
Gourmet Detective premiers Saturday, May 16, 2015 on Hallmark Movies & Mysteries.
About the Author
Francine Brokaw has been covering all aspects of the entertainment business for 20 years. She also writes about technology and has been a travel writer for the past 12 years. She has been published in national and international newspapers and magazines as well as internet websites. She has written her own book, Beyond the Red Carpet The World of Entertainment Journalists, from Sourced Media Books.
Follow her on Twitter
Like her on Facebook