'Gosford Park' on Blu-ray
Category:
Blu-ray's and DVD's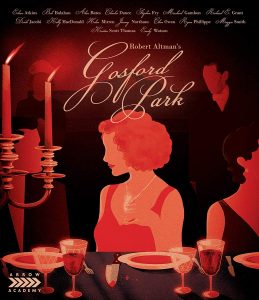 Julian Fellowes took home the Academy Award (Best Writing, Screenplay Written Directly for the Screen) for Gosford Park (2001). Fellowes is well known by fans of British television for Downton Abbey (2010-2015). For fans of the TV show who are missing some upstairs/downstairs drama, Gosford Park fits the bill.
The cast is phenomenal: Maggie Smith, Kristin Scott Thomas, Helen Mirren, Alan Bates, Michael Gambon, Tom Hollander, Natasha Wightman, Bob Balaban, Ryan Phillippe, Clive Owen, Eileen Atkins, Emily Watson, Kelly Macdonald, Derek Jacobi, Stephen Fry, and more. With this list of talent, the film couldn't be bad. And it isn't. It's a very British film about a group of upper-class snobs that gather together at an estate for a weekend of hunting. Of course they bring their servants.
The secrets upstairs and downstairs and between the classes as well as the affairs upstairs and downstairs combine to make this a story that has viewers feeling like they are a fly on the walls of this British gathering. This sneak peek inside the classes of the 1930s is familiar to fans of Downton Abbey.
But more than just the interaction between the people is the sudden murder of the host. Who did it and why? He wasn't the most admired man there, to say the least. He had a past that has finally caught up with him. But his secret is revealed to viewers as the drama plays on.
Joining the group of Brits at this lavish weekend are a Hollywood actor and a movie producer. They are there to get some background for the next film. Balaban plays the producer to the hilt. His only thought the entire time is how can he make his next movie as authentic and interesting as possible. Phillippe's character is also an interesting one to watch as he unravels his true identity slowly but surely.
There are bonus features on this new Blu-ray, including deleted scenes and some archival footage. There is a Q & A session as well as new cast interviews. The disc comes with a booklet filled with background information about the film, producer Robert Altman, the cast and characters, and images from the movie.
Gosford Park is a great film to put on during a cold winter's afternoon. Grab some hot chocolate and sit back for a couple hours of dry British wit and drama. The movie is rated R for some language and brief sexuality.
About the Author
Francine Brokaw has been covering all aspects of the entertainment industry for over 25 years. She also writes about products and travel. She has been published in national and international newspapers and magazines as well as Internet websites. She has written her own book, Beyond the Red Carpet The World of Entertainment Journalists, from Sourced Media Books.
Follow her on Twitter