Goodnight Darth Vader by Jeffrey Brown – Book Review
Category:
Books and Music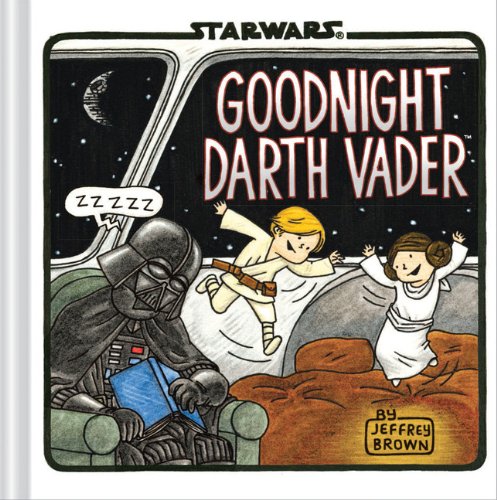 In a galaxy far, far away, even Darth Vader has a hard time getting his twins to sleep. Little Luke and Leia demand a bedtime story, so this book is the story Vader reads to them. Goodnight Darth Vader is fun for the whole family.
All of the great characters from the Star Wars stories are getting ready for bed: R2D2, Yoda, Chewbacca, Darth Maul, Han Solo, Boba Fett, the baby Ewoks, Lando, Ben, the Banthas, Padme, and even Jar Jar. While the characters all prepare for the night, kids will hear their stories with delight. The droids and characters get ready for a good night's sleep while Darth Vader reads to his adorable young children.
Do you or your kids need to know the Star Wars characters to enjoy this book? Probably not, but it does help. And honestly, most people these days have some inkling of the characters. They are part of pop culture, after all.
For parents who are looking for a new book to read to their kids at night, this is just what you're looking for. It's humorous, filled with fun drawings, enchanting rhymes, and a great sleepy-time story. Even if your kids are not going to grow up to save the galaxy, they will enjoy hearing a little story read to Leia and Luke by their father Darth Vader.
Jeffrey Brown has written several little books about Darth Vader and his kids. Although they were initially designed for adult readers, kids have enjoyed them as well. Parents like sharing the characters with their own children, and this book is really a great little story for youngsters to hear while preparing to go to sleep.
Goodnight Darth Vader is a great little bedtime story to read to your kids, and if they happen to be named Luke or Leia, all the better. Goodnight Luke. Goodnight Leia. Goodnight Darth Vader.
Hardcover: 64 pages
Publisher: Chronicle Books (July 22, 2014)
ISBN-10: 1452128308
ISBN-13: 978-1452128306
Product Dimensions: 6.6 x 6.6 x 0.5 inches
About the Author
Francine Brokaw has been covering all aspects of the entertainment business for 20 years. She also writes about technology and has been a travel writer for the past 12 years. She has been published in national and international newspapers and magazines as well as internet websites. She has written her own book, Beyond the Red Carpet The World of Entertainment Journalists, from Sourced Media Books.
Follow her on Twitter
Like her on Facebook