'Goldie & Bear: Best Fairytale Friends' on DVD
Category:
Blu-ray's and DVD's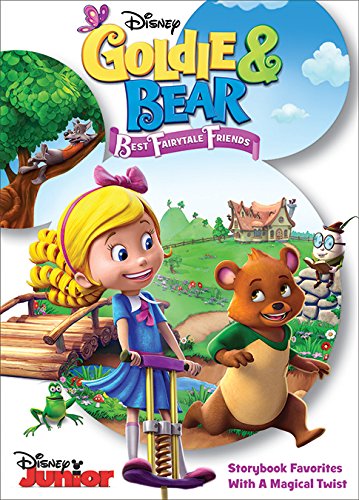 The Disney Junior series Goldie & Bear is kind of a mash-up of several fairy tales. Goldie (Goldilocks) and Bear (Baby Bear) are best friends. Yes, she broke his chair when she first entered the house of the three bears, but since that time the two have become almost inseparable. This DVD includes 7 episodes (14 stories) from the popular series.
There are many fun stories on this DVD, including the one where Goldie decides to fix Bear's chair for his birthday present. She enlists the help of the Three Little Pigs, but decides a chair of brick, one of sticks, and one of straw just aren't what she wanted, and Bear is happy with the one she made herself.
In another story, Bear is told he is too little to do some of the things he wants to do. With the help of one of Jack's magic beans (Jack and the Beanstalk), he grows to a giant size. But then he is too big for things. So in the end he and Goldie use their one wish (you'll have to watch to find out how they get the wish) to reduce him to his normal size, where he knows he will grow up eventually. But why rush things? He's perfect just like he is.
In another story the two friends help the Giant with his missing shoe, which was taken over by the lady with all the children. After all, it makes a great house for them!
And Goldie has always wanted to wear Red's cape (Little Red Riding Hood), so she and Bear offer to take Red's basket to her grandmother so Red can help Rapunzel with her hair. On the way they meet the Wolf who only wants to eat what is in the basket. He learns his lesson when they tell him they will gladly give him something to eat if he asks nicely and uses the magic word – which is "please."
In yet another fun story Bear gets some magic red shoes that help him dance because he wants to go to the dance but doesn't know how to dance.
There are plenty more stories that will entertain youngsters with some of the greatest fairy tale characters of all time. They each have a little lesson about life. With Goldie, Bear, Red Riding Hood, Jack and the Beanstalk, Thumbelina, Pinocchio, the Three Little Pigs, Jack and Jill, the Frog, Humpty Dumpty, and others, this little group is a fun mix for everyone.
Included in the DVD box is a Playtime Fun Set, which has a picture to color, a maze, and decals to place on a cardboard scene so kids can make their own story using Goldie, Bear, Humpty Dumpty, The Three Little Pigs, Jack, Red Riding hood, and the Big Bad Wolf.
"Once upon a time…" just got a whole lot more enjoyable. With Goldie and Bear and all the fairy tale and nursery rhyme characters interacting, there is always something new and exciting going on.
About the Author
Francine Brokaw has been covering all aspects of the entertainment industry for 20 years. She also writes about products and travel. She has been published in national and international newspapers and magazines as well as Internet websites. She has written her own book, Beyond the Red Carpet The World of Entertainment Journalists, from Sourced Media Books.
Follow her on Twitter