'Going my Way' on Blu-ray
Category:
Blu-ray's and DVD's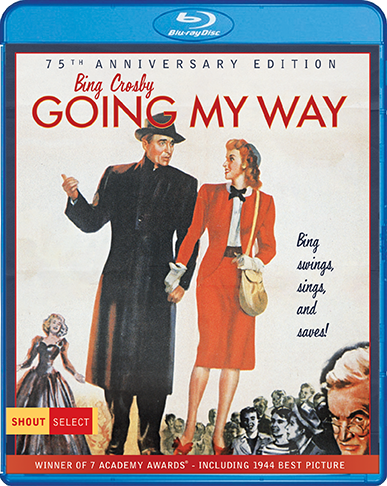 Going My Way is an inspirational film with fun and music and a lot of heart. Now, for its 75th Anniversary the Blu-ray will not only delight fans of the film but will also entertain new viewers that are not familiar with this delightful movie.
Bing Crosby plays Father O'Malley, a young priest assigned to a parish overseen by the gruff Father Fitzgibbon (Barry Fitzgerald) who likes the old ways and balks at anything new. The parish is in financial trouble and O'Malley is determined to get the funds and set everything in the right direction.
O'Malley is a kind, sensitive man and an inspiration to a bunch of young boys. With his take on modern life, he wins over the kids and eventually the crotchety Fitzgibbon. With wonderful songs like "Swinging on a Star," "Too-ra-loo-ra-loo-ral," "The Day After Forever," and the title song "Going My Way," this movie will have viewers singing along as well as feeling empathy for the two priests who have different backgrounds but both want the best for the parish.
Fitzgerald is delightful and loveable as Father Fitzgibbon. He has so many cute lines and watching him perform is a treat. And Crosby is magnificent in this role.
The movie is a classic and Crosby took home the Academy Award for Best Actor with Fitzgerald winning Best Supporting Actor. The movie also won several other awards in 1944.
Crosby returned to the screen as Father O'Malley the following year to star in The Bells of St. Mary's with Ingrid Bergman that again had Crosby up for an Academy Award however he did not win that year.
Going My Way is a great film for the entire family.
About the Author
Francine Brokaw has been covering all aspects of the entertainment industry for over 25 years. She also writes about products and travel. She has been published in national and international newspapers and magazines as well as Internet websites. She has written her own book, Beyond the Red Carpet The World of Entertainment Journalists, from Sourced Media Books, is the entertainment correspondent for Good Day Orange County, and has her own TV show, Beyond the Red Carpet, on Village Television in Orange County. Follow her on Twitter.