Glow with the Show in Disneyland
Category:
Activities, Performances, & Events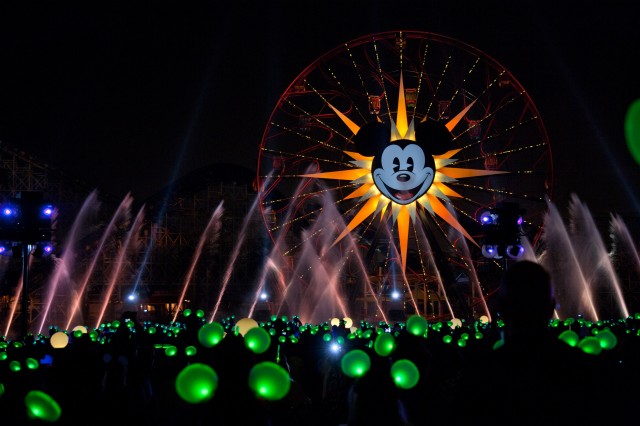 Since it opened in 1955, Disneyland has sold more than 85 million Mickey Mouse Ear hats. If only I had my original it would be worth, well, plenty!
Today besides the original design of the black hat with black ears, the ear hats come in a variety of colors and designs. To date more than 200 different varieties of ear hats have been produced. But the most creative and amazing is the hat designed to coordinate with the nightly show in Disney California Adventure, World of Color.
The new Mickey Ears are high tech. They light up to interact with the show. World of Color is a spectacular night show incorporating water, music, lights, and even scenes from Disney movies that are projected on the fountains. The special effects are incredible, but making it even more so are the interactive Mickey Ears.
"Glow with the Show Ear hats let our guests become part of the color of our magical World of Color at the Paradise Pier lagoon," said Steve Davison, creative entertainment vice president of parades and spectaculars. "Embedded pixels allow the Ears to dance and play along with each musical sequence. It truly brings the show's environment out of the lagoon and into the audience in an amazing and dazzling new way."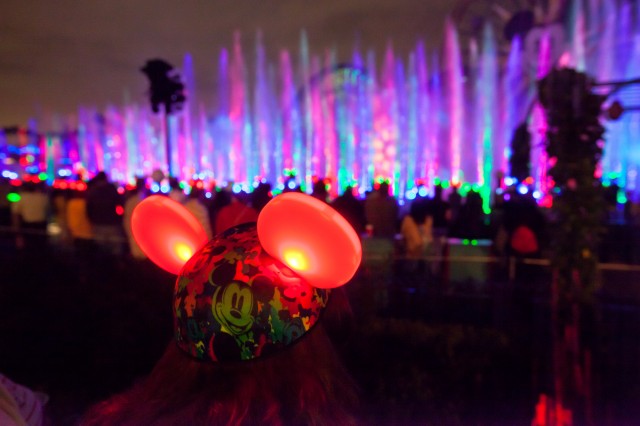 As the show and the music changes, the ears change color via remote controlled LED lights that are controlled by a cast member. Sometimes the sea of ears will be the same color, and other times they will flash different colors. You don't have any control over the colors so just sit back (or I should say stand up) and enjoy the show. It's amazing to be in a sea of guests, watching the nighttime spectacular, and watching everyone's ears change color to coordinate to the music, the lights, the laser show, and the fun.
The special Glow with the Show ears cost a little more than the usual Mickey ears. They run approximately $25 at select locations in the park, but you can use them every time you visit Disney California Adventure and watch World of Color.
About the Author
Francine Brokaw has been covering all aspects of the entertainment business for 20 years. She also writes about technology and has been a travel writer for the past 12 years. She has been published in national and international newspapers and magazines as well as internet websites. She has written her own book, Beyond the Red Carpet The World of Entertainment Journalists, from Sourced Media Books.
Follow her on Twitter
Like her on Facebook