The Journey Home DVD GIVEAWAY
Category:
Giveaways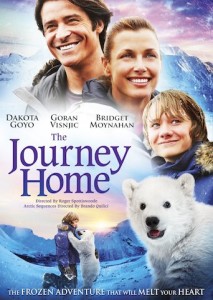 When Luke Mercier (Dakota Goyo) heard some noise outside his house, he never could have guessed what he would find.  Discovering a young polar bear cub that has been separated from its mother, Luke knows he has to do something to help. Despite the warnings of his family and friends, Luke speeds off on a snowmobile, with the cub in tow, deep into the frozen wilderness.  But when a violent storm closes in, Luke's mother (Bridget Moynahan) and family friend Muktuk (Goran Visnjic) frantically search for the daring pair as they defy starvation and below freezing temperatures so both boy and bear can complete their own journeys home.
We have some copies of this entertaining family adventure to give away.
To be eligible to win a copy of The Journey Home, email us at [email protected] with "Journey Home Giveaway" in the title. Please supply your name, address, phone number and email address (so we can let you know if you are a winner).
The deadline for this giveaway is September 25, 2015.