Peanuts: Emmy Honored Collection DVD GIVEAWAY
Category:
Giveaways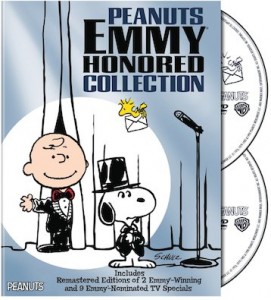 It's Snoopy and Charlie Brown at their very best with Warner Bros. Home Entertainment's release of Peanuts: Emmy® Honored Collection.This must-own collection brings together 11 beloved Peanuts specials that have been brilliantly remastered in all-new 4K Ultra HD transfers to DVD. Each of the featured specials has earned an Emmy® Award nomination or won an Emmy® Award.
Take a bow, Charlie Brown! Now fans have a front-row seat to a showcase of the most prestigious Peanuts features ever assembled into one collection. Peanuts: Emmy® Honored Collection includes 11 animated television specials on two discs. All of the specials featured in this release were recognized with either an Emmy® Award win or nomination. All specials have been remastered for gorgeous picture and sound quality. It's a collection full of big laughs, best friends and life lessons that will delight the whole family.
We have some DVDs to giveaway.
To be eligible to win a copy of Peanuts: Emmy Honored Collection, email us at [email protected] with "Peanuts Giveaway" in the title. Please supply your name, address, phone number and email address (so we can let you know if you are a winner).
The deadline for this giveaway is September 17, 2015.