Gidget: The Complete Series DVD Set
Category:
Blu-ray's and DVD's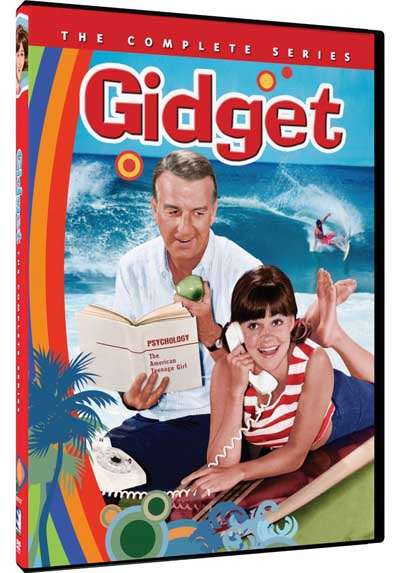 In 1965 Sally Field was basically an unknown actress. But she soon became a household name as the fresh-faced, surfing girl nicknamed Gidget. For a season Field entertained viewers with innocent teen angst and fun in the sun antics in this series that was based on the hit 1959 movie Gidget, which starred Sandra Dee and James Darren.
Afficianods of the movie will see some big changes between that Gidget and the TV series Gidget. First of all, Gidget lives with her father (Don Porter) because her mother is no longer alive. And she has an older sister, Anne (Betty Conner) who is married to John (Pete Duel), an aspiring psychologist. Gidget's best friend is Larue (Lynette Winter) who is quirky and provides a lot of support – as well as comic relief – to her friend Gidget.
The best way to look at this series is that it takes the name from the movie, and not much else. So look at it as a fun, mid-sixties, sitcom that opens a window into the innocence and simplicity of the time. The wardrobe, hairstyles, and even the locations are fun to view. They have definitely changed a lot since this was filmed. But it is a blast from the past, and seeing the perkiness and effervescence of Sally Field is refreshing.
Field has had a long and successful career in Hollywood, and this series laid the groundwork for all of that. It gave her her start.
Throughout the 32 episodes, Gidget manages to get herself into laughable situations. In the pilot she decides since her boyfriend Jeff is going to go back to Princeton, she should be able to date other guys while he is away, but when he says he should be able to date other girls, well, that just isn't right for this little surfer girl.
With her dull sister and especially her brother-in-law trying to keep the young teen in line, Gidget has her hands full. But her father is always on her side. Her wide-eyed innocence, her perkiness, and especially her fun way of looking at life combine to make the character a cute one to watch. Sure, the episodes are dated, but still, it's a fun escape from the stresses of today. It shows that the world was once a fun and simple place, unspoiled by the horrors of what we see on the news these days. It is an enjoyable, light-hearted sitcom that is sure to delight viewers.
Gidget: The Complete Series is not rated, however it is suitable for all ages.
About the Author
Francine Brokaw has been covering all aspects of the entertainment business for 20 years. She also writes about technology and has been a travel writer for the past 12 years. She has been published in national and international newspapers and magazines as well as internet websites. She has written her own book, Beyond the Red Carpet The World of Entertainment Journalists, from Sourced Media Books.
Follow her on Twitter
Like her on Facebook