Get your groove on with 'Trolls World Tour – Dance Party Edition'
Category:
Blu-ray's and DVD's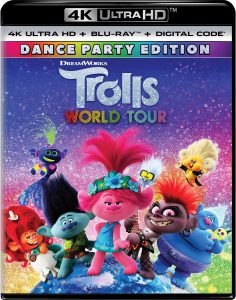 Gather the family and prepare for some toe tapping, dancing, and singing with Poppy, Branch, and the rest of the Trolls. Trolls World Tour is a fun and music-filled adventure. And the Dance Party Edition adds to the fun of this film. If you are 4K-compatible, then by all means pick up this edition which makes the colors pop (no pun intended) and the music fill the air.
Queen Poppy (Anna Kendrick) just discovered there are other trolls in the world. They are different and live with different music in their lives. She also learns that Queen Barb (Rachel Bloom) is on a mission to collect the various strings from each of the Troll regions and unite them…under the rule of Hard Rock! Well, Poppy thinks Barb is planning on bringing all the Trolls together due to her kind heart, and she wants to help. After all, what a wonderful world it would be if all the Trolls were once again united.
What Poppy doesn't know is her naïveté could be the downfall of all the Trolls. All Poppy wants is to have everyone enjoy each other but Barb wants to regulate how they live, and all she cares about is Hard Rock. So what will become of the Pop, Hip Hop, Funk, Techno, Country, and Classical music-loving Trolls? If Barb has anything to say about it, she would banish all those varieties of music and everyone would become Hard Rockers. But Poppy and Branch (Justin Timberlake) must make her understand that differences are important. And just because their music is different does not mean they cannot get along.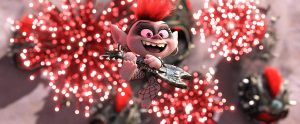 Embracing their differences is the key to living in harmony. And with each of the Troll regions dedicated to a different kind of music, they can still be friends without being foes. (Perhaps the people of today should take a lesson from the Trolls!)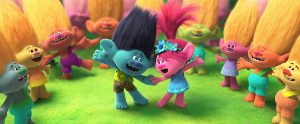 The 4K Ultra HD + Blu-ray + Digital Code Dance Party Edition includes many bonus features. There is a bonus with a dance lesson for each kind of music represented in the film. There is a feature about the different Troll regions, deleted scenes, and other additional content. Get off the couch and move your feet. There are several other bonus features and viewers can select if they want to watch the movie in the theatrical release mode or the Dance Party Mode. This is a fun way to experience the story. Viewers are encouraged to use their dancing skills while watching the scenes, and the lyrics for the songs are on screen so viewers can sing along with the Trolls.
In these days of staying at home, Trolls World Tour is great for a fun family night. It is rated PG for some mild rude humor. Kick up your feet and tickle your vocal chords with Poppy, Branch, and all the new Trolls. It's time to party!
About the Author
Francine Brokaw has been covering all aspects of the entertainment industry for over 25 years. She also writes about products and travel. She has been published in national and international newspapers and magazines as well as Internet websites. She has written her own book, Beyond the Red Carpet The World of Entertainment Journalists, from Sourced Media Books, is the entertainment correspondent for Good Day Orange County, and has her own TV show, Beyond the Red Carpet, on Village Television in Orange County.