Get a Horse - A New Short from Disney
Category:
Movies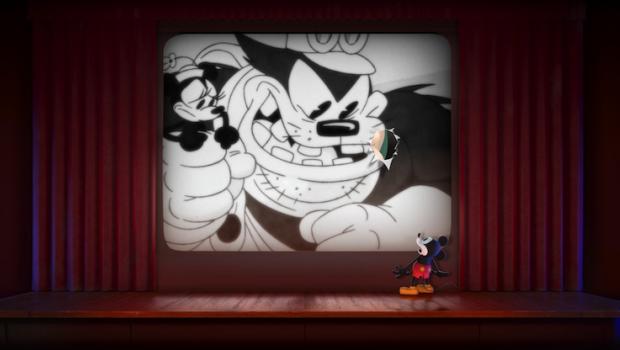 When audiences go to the theaters to see Disney's new animated feature film Frozen, they will get an additional treat. A new short, Get a Horse, will run before the main film. Get a Horse is entirely new but looks like it was made decades ago. And, Walt Disney supplies the voice of Mickey Mouse, thanks to modern technology and the imaginations at Disney Animation.
Lauren MacMullan, the director of Get a Horse, explained that she wanted the new short to reflect the 1928-1929 era of animation, which included "ridiculous plots and expressiveness" and were "inventive." There were "no laws of physics and gravity." That certainly sums up this little film.
MacMullan explained that the plot is akin to The Purple Rose of Cairo in that characters on screen are pulled into the real world. Mickey, Minnie, and the group are on the screen, and then they are magically pulled into today (via 3D), thanks to the wonderful creative team on this film. 3D makes the transformation between the two worlds as realistic as possible. This film needed some additional creativity to make it as impressive as it is, so there was a lot of collaboration between the 2D animators and the CG animators. As a matter of fact, MacMullan called this collaboration "unusual." It's something you have to see to understand. The story itself is creative and enjoyable to kids, and adults will appreciate the technology and ingenuity in the production.
By incorporating both hand-drawn animation with computer-generated animation, the result is a visually stunning little film. So, when you go to see Frozen, enjoy this creative little pre-show cartoon.
About the Author
Francine Brokaw has been covering all aspects of the entertainment business for 20 years. She also writes about technology and has been a travel writer for the past 12 years. She has been published in national and international newspapers and magazines as well as Internet websites. She has written her own book, Beyond the Red Carpet: The World of Entertainment Journalists, from Sourced Media Books.
Follow her on Twitter
Like her on Facebook