'Generations: A Greek Family Odyssey' – Book Review
Category:
Books and Music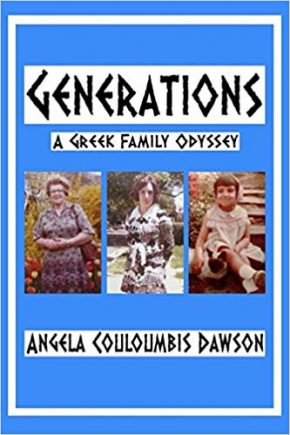 Entertainment journalist Angela Couloumbis Dawson's book Generations: A Greek Family Odyssey spans three generations of tough Greek women. The story is part autobiography with a little mystical element added in for fun and whimsy.
Dawson delves into the lives of her grandmother, mother, and her days as a schoolgirl in a private boarding school. Through her colorful and dynamic descriptions, Dawson pulls readers right into the story as the three women face personal hardships and disappointments.
Traveling from Greece, Sandra (the name she changed to when she became American) entered into an arranged marriage. Then with the arrival of her daughter Krystal, she realized she had to strike out on her own and look for her own happiness with a man who wanted her and would love her. The lives of these women are wound tightly in this touching family story of love, devotion, and difficulties.
At about five years old, little Angela was sent to boarding school away from her mother and grandmother. There she learned to survive while at the same time maintaining her sweet innocence. Her mother worked three jobs while her grandmother worked in her own record shop. With all of this, they couldn't handle looking out for the young girl full time, so off she went.
The narrative is touching and Dawson tugs at readers' heartstrings while being honest as the story unfolds. The touch of fantasy doesn't detract at all from this heartening tale.
Generations: A Greek Family Odyssey is an interesting read. It's touching, whimsical, sweet, tender and definitely emotional.
Paperback: 178 pages
Publisher: CreateSpace Independent Publishing Platform (May 3, 2018)
ISBN-10: 1718738544
ISBN-13: 978-1718738546
About the Reviewer
Francine Brokaw writes about books, products, travel, and entertainment. She has been published in national and international newspapers and magazines as well as Internet websites. She has written her own book, Beyond the Red Carpet The World of Entertainment Journalists, from Sourced Media Books.
Follow her on Twitter