G.B.F. Movie Review
Category:
Movies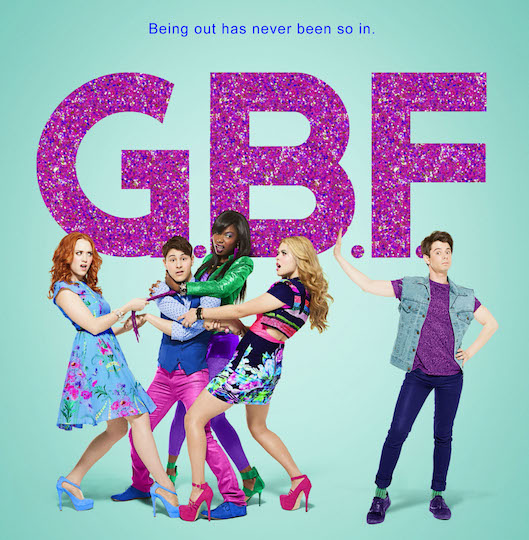 High School social status is at the center of the world in G.B.F. All the girls want a "gay best friend" with whom they can share their thoughts, shopping, and advice.
Tanner (Michael J. Willett) is a shy, gay teen that hangs out with three other kids. This foursome is on the fringe of the social set in their high school. Actually, these four are not on the fringe, they are simply not on the radar of anyone except their small social group – Brent (Paul Iacono), Sophie (Molly Tarlov), and Glenn (Derek Mio). This foursome sticks to themselves, however Brent is thinking about coming out of the closet and dreams of being a popular gay kid in the school where no one is out of the closet.
Tanner is not so confident about exposing his sexuality, but due to a mishap, he is accidentally "outed" and soon finds himself the object of attention of the three social queens on campus: Caprice (Xosha Roquemore), a drama queen, Fawcett (Sasha Pieterse), a fashionista, and 'Shley (Andrea Bowen), a naïve Mormon princess. Soon the girls are vying for Tanner's time and put aside their personal warfare to join together to make over their new GBF. After all, what's better than a BFF? It's a GBF.
While the three queen bees instantly put Tanner in the upper echelon of the school's social circle, Brent is left behind and Tanner finds himself spending all his time with his new "friends." Brent, the one who originally thought about coming out of the closet, discovers he is too intimidated to take that first step but when he sees the instant popularity of his best friend, he wonders what he should do.
Tanner is now the popular kid on campus and the one and only gay member of the school's straight/gay student group headed by Soledad (Joanna 'JoJo' Levesque), a do-gooder who is excited to finally have an admittedly gay student in the school and her club.
This movie is entertaining and as the story progresses and the different personalities of the students emerge, strange alliances form and some social structures crumble. While some students profess to be a certain way and outwardly portray a certain image, it's what they don't show that begins to emerge and it's all thanks to the accidental outing of one unassuming young man. Tanner's life instantly changes, but it takes a little while before others change.
G.B.F. is a fun film but not for everyone. The diverse group of characters might offend some viewers. It is rated R for sexual references (obviously). It opens in theaters January 17, 2014.
About the Author
Francine Brokaw has been covering all aspects of the entertainment business for 20 years. She also writes about technology and has been a travel writer for the past 12 years. She has been published in national and international newspapers and magazines as well as Internet websites. She has written her own book, Beyond the Red Carpet: The World of Entertainment Journalists, from Sourced Media Books.
Follow her on Twitter
Like her on Facebook