'Fun Mom Dinner' - Movie Review
Category:
Movies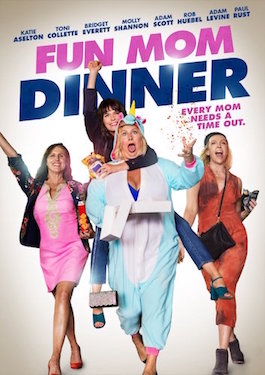 Toni Collette, Katie Aselton, Bridget Everett, and Molly Shannon star in Fun Mom Dinner about four mothers who take a break from being "mom" and for the evening they are simply themselves. After all, we all need a break from the frustrations and demands of our lives, don't we? These women are fabulous moms, but one night out with the girls is just what they need.
Bridget Everett is Melanie, a former military woman who now runs her household like a boot camp. She is a no-nonsense gal who loves her family and is a loyal friend.
Toni Collette is Kate, a frazzled mom who, although she loves her family, she cannot be herself with them. She is wound up tight and stays to herself, to the chagrin of the other moms at the school.
Molly Shannon is Jamie, a divorced mother who is ready to start dating again.
Katie Aselton is Emily, Kate's old school chum who moves to town with her family. She is eager to make new friends because her marriage leaves her lonely.
When these four get together for a night of dinner, drinking, karaoke, and all kinds of antics, they are in for a fun mom-free time. As the night progresses they learn more about each other and they cement their bond of friendship.
And who is taking care of the kids while the women are out on the town for a well-deserved break? Yep, Kate and Emily's husbands are in charge of the kids. They learn parenting techniques from each other as well as how to help their wives.
The movie is exactly what you would expect, although more debauchery as the women really let loose.
Fun Mom Dinner was written by Julie Rudd, who is a wife (actor Paul Rudd) and mother of two. She knows the restraints of being a mom and how it's necessary to let loose from time to time. And that is exactly what the four women do during their one carefree night.
The movie is rated R for plenty of language and drug use. It's definitely not for kids. Its target audience is women who can identify with the trials and tribulations of being a wife and mother. And while the film isn't filled with laugh-out-loud moments, it does have some cute scenes as well as emphasizing the importance of friendship.
Fun Mom Dinner hits theaters August 4, 2017.
About the Author
Francine Brokaw has been covering all aspects of the entertainment industry for over 20 years. She also writes about products and travel. She has been published in national and international newspapers and magazines as well as Internet websites. She has written her own book, Beyond the Red Carpet The World of Entertainment Journalists, from Sourced Media Books.
Follow her on Twitter